Hi.
I have installed WAMP server to act as my local host. I felt the install worked correctly and I was able to launch php files on my local host. I was also able to go into the MyPhp Admin section on WAMP at my localhost and look at databases etc.
However, I had been trying to use the windows cmd (dos) box to see what version of mysql I had running which I couldn't do. I carried out some searches on the internet and I'm now wondering if my WAMP has only installed partially, as I seem to be missing some functionality (I think).
When I left click on the WAMP icon in my tray icon (it is green and running) I get the following menu displayed: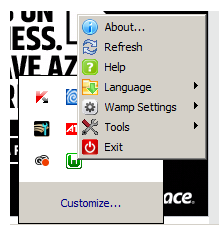 However, looking online, people seem to be getting something more like this...
I have version 3.1 which is fairly new and I didn't interrupt the install. Is there something obvious I'm not getting? I do have an SQL folder when  I install wamp - located here : C:\wamp64\bin\mysql\mysql5
.7.19
I wanted to create tables and databases through the command prompt, either through the windows command prompt or the mysql command prompt which I thought might be contained within WAMP. But can't seem to do either.
Any help on what's not right would be great.
Many thanks,
Adam