I am trying configure Windows updates on a bunch of Windows 10 laptops, and I get this message that is being controlled by DC: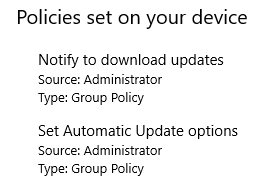 When I go into the Domain Controller 2008 R2, and look under GPO for > User configuration > Administrative Templates > Windows Components > Windows Update, and do the same thing for Computer configuration.  I see nothing enabled.
I cannot find where these are set.   I even went to the local box.
https://technet.microsoft.com/en-us/library/bb490846.aspx
Can anyone help me to find where these settings are taking place.
Thanks