I am considering making a site that can auto-analyze a certain type of uploaded report, and instantly display the results as a PDF. There are various steps involved in the creation of the PDF and I want a feeling for the effort and technology needed for each step.
There are three different steps I will discuss here to see where I can use WordPress plugins and where I need to customize the functionality.
The uploaded report would be a merchant's monthly credit card statement, like the following snippet..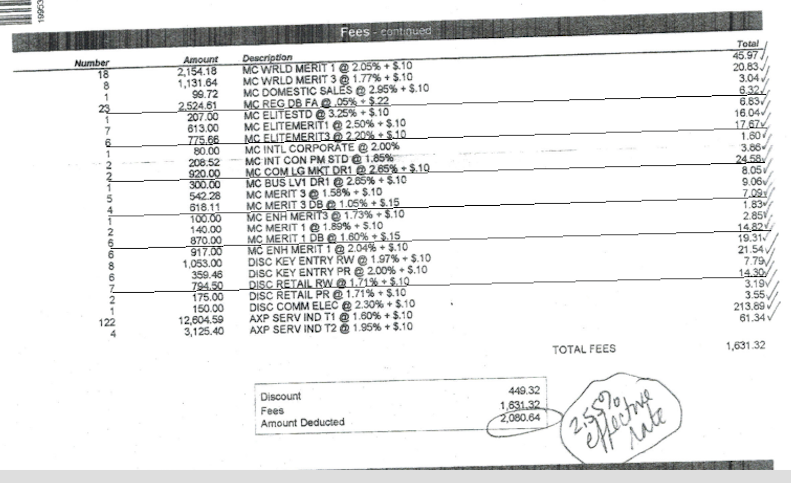 1) So, for the first of three steps, I need a WordPress OCR plug-in. Are there many options for that? Is the angle of the text a problem? I can not guarantee neatness. (I added the underlining to make it easier for me to read)
I imagine allowing an authorized user to upload a report. And i need this plug-in to convert images to some form of digital data, like a PDF or a CSV file.
2) I need a way to analyze that data, and wonder if there is a configurable WordPress plugin for this? It will query the items by the Description, then use the numeric values in the Number, Amount and Total columns for mathematical computations. There will be some mathematical steps performed on some of the data as it generates the output for the report.
The results should go into some format, like a CSV file
3) I need a report tool which can import the data results from Step #2 and apply them to various pre-designed fields in the final pre-designed report.
I need to display that report in the browser and enable the user to download and print that report.
I presume steps #1 and #3 can be completely satisfied through the use of a WordPress plugin, with configuration. But Step #2, I am not so sure about.
Must that report analysis logic be created in PHP? It will need to query the data converted by the OCR plug-in, perform math functions, summarize the results and output to some intermediary file format.
Would I be creating a WordPress plugin to perform this step #2? If not, where exactly would this logic go?
And lastly, is there an existing WordPress plug-in which can speed up Step #2?
Please let me know.
Thanks