What I need to find:
Count:
-ID 1 or ID 2 is from rp
-Particular week (eg.week 80)
-Count only if the status is successful
How the worksheet looks like:

Sheet 2(details of the people and the division they are in):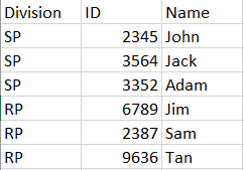 Sheet 3:

How my code looks like:
=SUMPRODUCT(COUNTIFS('Shee
t3'!$A$3:$
A$4747,C1,
'Sheet3'!$
E$3:$E$474
7,"1",'She
et3'!$C$3:
$C$4747,Sh
eet2!B2:B1
5))
The above code does not work. Any help will be appreciated. Thank you!
Picture6.png
Book2.xlsx