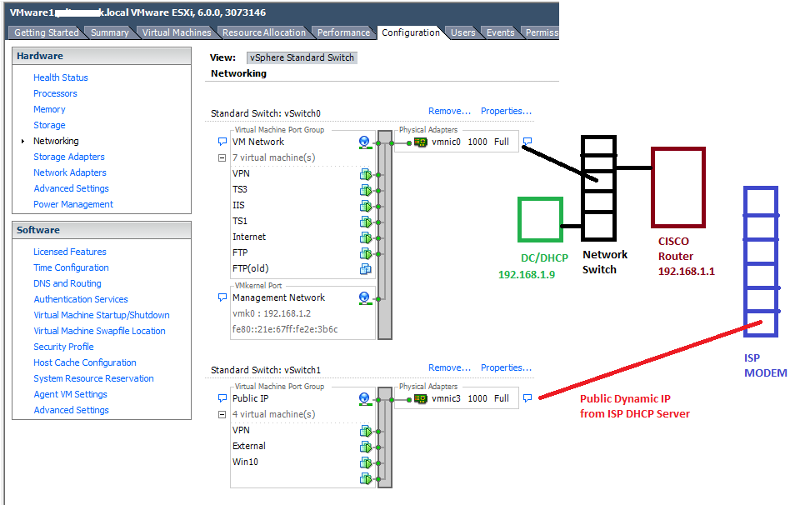 Hi,
I have VMWare box that came with two NICs. I use one NIC for internal servers and workstations and they are on 192.168.1.x network.
The 2nd NIC is directly connected to the back of ISP internet modem for the virtual machiens that need direct connection to the internet by getting public dynamic IP addresses from ISP DHCP server and it has been working fine.
Recently these virtual machines (under "Public IP -vSwitch1") fails to receive public IP from ISP's DHCP server. If I assign a static public IP (we have a set of 5 public IPs given by ISP) to these VMs, they work fine. However if I configure TCP/IP properties in these VMs to receive IP dynamically, it receives 192.168.1.x number as if it is under vSwitch0.
Today I spoke to tech support at ISP and they confirmed that they still give out dynamic IP addresses to any device attached to their internet modem as long as it is set to receive dynamic IP.
So far, I have restarted these VMs, switched NIC between vSwitch0 and vSwitch1 on VMs, shutdown & start, even created a new virtual machine and assigned NIC to vSwitch1/Public IP group, but to no avail.
I have not restarted VMWare box yet.
Any suggestions?
Thanks.