I have looked all over and wondered if there was a page either on the Salesforce community or other that had the following questions answered above. I have the following problem. I have a TASK table created from another program where the data was exported cleanly to Excel and saved as CSV. I am trying desperately to import it into salesforce from the CSV attached. I am aware I can use the ACTIVITY table and I can use it I assume if this is not possible. I would think that the TASK table which is so close to what I need would accomodate this without having to create all new fields and having to go with the Table Name Change (from TASK to ACTIVITY Table)
I can see that there are DATA TYPES that designate the width of the field and others that do not. Is there a default width for a:
1. Picklist
2. Email
3. Lookup (User)       "What is the difference between number 3 & 4 ?"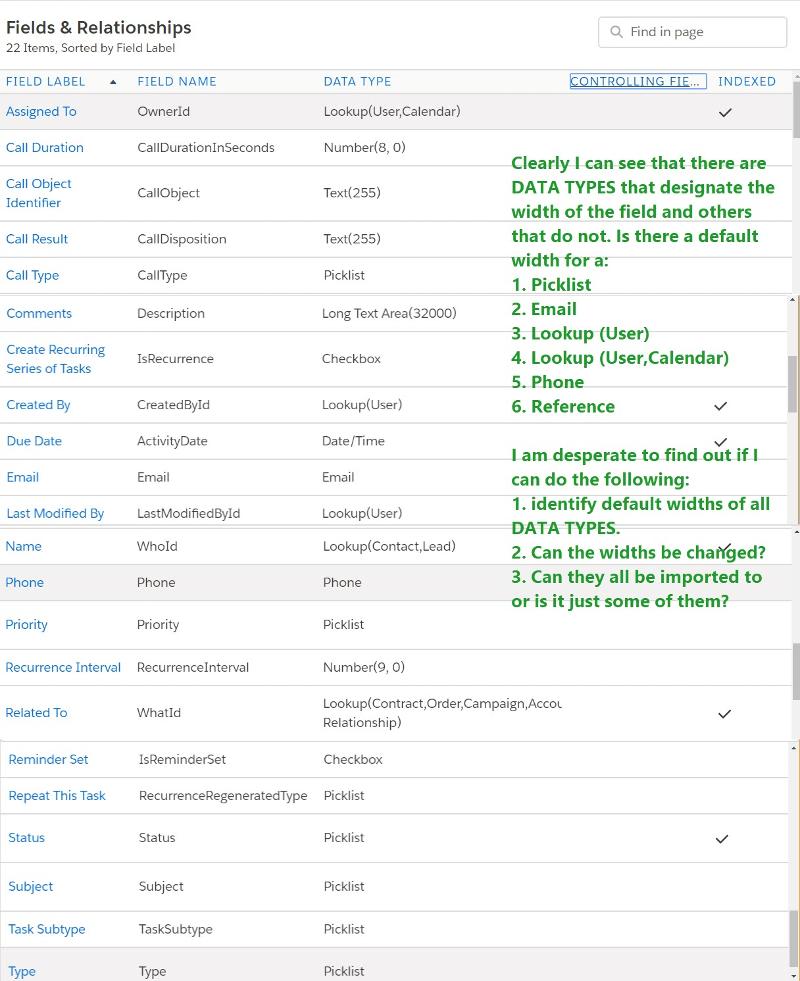 4. Lookup (User,Calendar)
5. Phone
6. Reference
If there is a default width. Where do I find it.
I am desperate to find out if I can do the following:
1. Identify default widths of all DATA TYPES?
2. Can the widths be changed?
3. Can all DATA TYPES be imported to or is it just some of them?
My biggest problem is getting the right search terms in place to search so maybe the answers are out there. I have not been successful finding them. I have spent days searching....no exaggerations here either. Your help is appreciated.