The user has a gmail account that they are connecting to on a MacBook Pro 13 with High Sierra OS.
They are using the Apple Mail App
They have noticed delays when sending email and reading attachments.
I have noticed issues with their gmail setup:
Do they have too many messages in their inbox?
They have more than 18,000 messages in the Inbox. I can have them fix this by creating folders, moving mail, and using the excellent
MailHub
Mail plugin to rapidly delete and file mail.
They have created a lot of sub-folders to their gmail inbox. Are these folders slowing down the Apple Mail? Do I need to relocate them?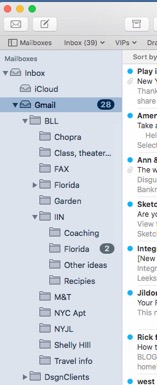 I also noticed, that when I moved old email to a separate folder, there was a lot of download activity. What is the cause of that? I only moved a few hundred, but it looks like several thousand are being categorized as 'downloading'
Thanks