Wonderful program, pain.dot.net.
Have shortcut on my desktop that uses a custom icon.
Have pinned the shortcut to my Start Menu, but, it always uses the program's default Logo / Image for the icon. (see attached)
Any way to get the pinned-to-Taskbar shortcut to use my image / icon? Can't find the path to the image the program is calling.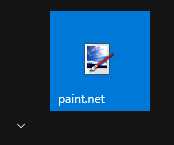 Thanks!
OT