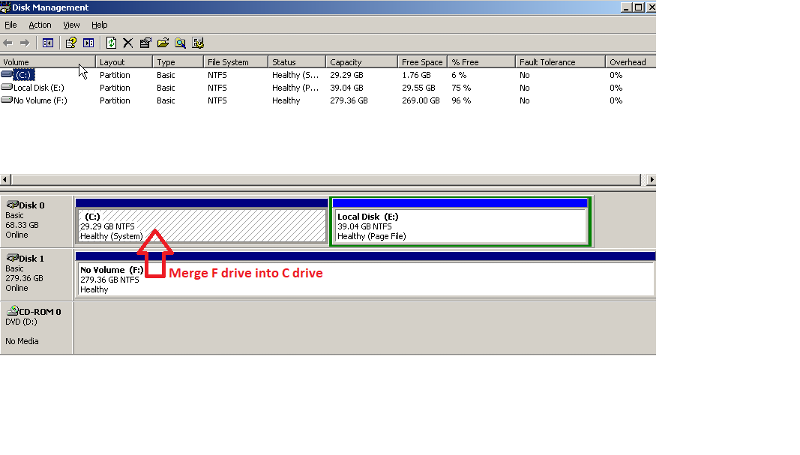 Hi,
I have a Windows 2003 server as virtual machine (in VMWare box) that has 3 drives/partitions:
C Drive (29GB Total / 1.7GB Free) : contains OS and Program Files/Application software. Constantly running out of space.
E Drive (39GB Total / 29GB Free): has data files for the software. The software knows there are certain files on the E drive.
F Drive (273GB Total / 269GB Free): Not being used.
This used to be a physical server a long time ago and I don't remember whether I was doing RAID 1 or 5. But anyway C and E drive were on one set of hard disks (in the raid array) and F drive was on another.
I moved this to virtual environment in VMWare server and disk structure (Disk0 and Disk1) is carried over to this virtual machine.
Since C drive is constantly running out of space, I need to do something to provide more space for C.
Back in the day, I used to use "partition magic" to merge partitions, but I could not have used it to merge F drive into C drive because they were in physically different partitions (or hard drives).
Now they are in virtual environment (and this VM is on one drive in raid array) and wonder if I can merge them easily.
(1) Can I merge F drive into C Drive so that I can have new C drive with 300GB of space?
(2) What software would you recommend for merging? If there is a free software that I can use?
Thanks.