I am in desperate need of help. Here is the full story. We are upgrading from exchange 2010 to exchange 2016. There are 4 exchange 2010 servers. A, 1 primary exchange with main send and receive connectors.
B and C, 2 local exchange that have an internal replay to the primary
DR is the backup exchange
I installed a new Exchange 2016 and set the virtual directories of OWA for internal and external. The Primary exchange (A), has outlook anywhere installed. B and C have it pointing back to itself for all virtual directories. and DR exchange does the same thing.
After the install, Primary exchange A and new ex2016 did not show any problems. But site B and C were unable to connect to exchange outside of our network. Easy fix was to move them to over to the new exchange. Issue, somewhat solved.
Now comes a new problem. I installed an exchange 2016 DR server and created a DAG but I am getting these pop ups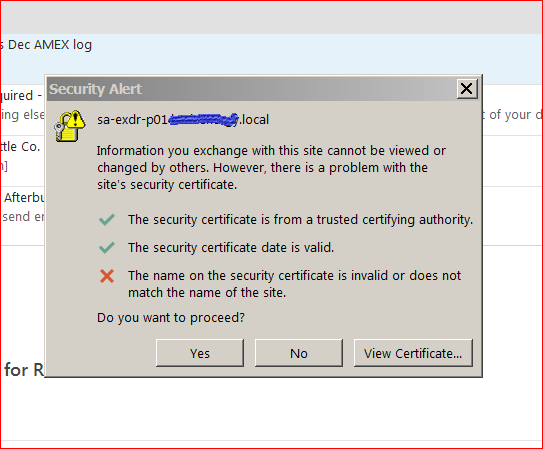 I have a split DNS on site. I looked into changing the _autodiscover SRV file to point from the old exchange DR to the new exchange DR but, I can't do that as we are not fully migrated over. When i open up outlook, it seems to want to connect to my sa-exdr-p01 via MAPI. I'm not sure why it keeps trying to auto connect to it. If I hit no on the cert, It will connect to my OWA. If I hit yes, it will still connect but instead of going to OWA MAPI, it will connect to sa-exdr-p01 mapi. Mail still flows in and out. No problem.
I'm completely lost at what i can do. I have tried to redo the wildcard cert to get it to access the .local domain but that didn't work. I haven't tried doing it without the wildcard. But I'm not sure if that would work.
I need to add another FE exchange, but I cant move on until this issue is fixed.
Tech:
Exchange 2010 on Server 2008 sp3 outlook anywhere enabled on Primary A server
Exchange 2016 on Server 2012 outlook anywhere and all virtual directorys point to OWA (except for DR exchange, only internal points to itself)
Attached is all the VD for each server.
EnvironmentBackup.txt