Hi, I am trying to figure out if it is safe and/or why System Center Data Protection Manager 2012 R2 (DPM 2012 R2) replica points/data hasn't fallen off the disks yet.
I attached a couple new, more reliable disks (volumes) within my DPM 2012 R2 and migrated the current data from these older disks/volumes referencing a couple articles found here:
Primary source:
How to Use the Migrate Data Source Data from DPM using PowerShell to Move Data
Additional source:
Using Migrate Datasource Data from DPM
(Note: The Primary source/article mentions the following:
You must retain your old disks until all recovery points on them expire. After the recovery points expire, DPM automatically de-allocates the replicas and recovery point volumes on these disks.

)
It has been 45 days or more, so all of the data has fallen off/removed itself from the disks in question, except these last two.
I know both refer to DPM 2007, but it worked on my DPM 2012 R2.
However, there is one lingering item that is bothering me...there are to replica data or whatever it is called still displaying on the disks when I view them under Disk Management (Computer Manager/Storage/Disk Management).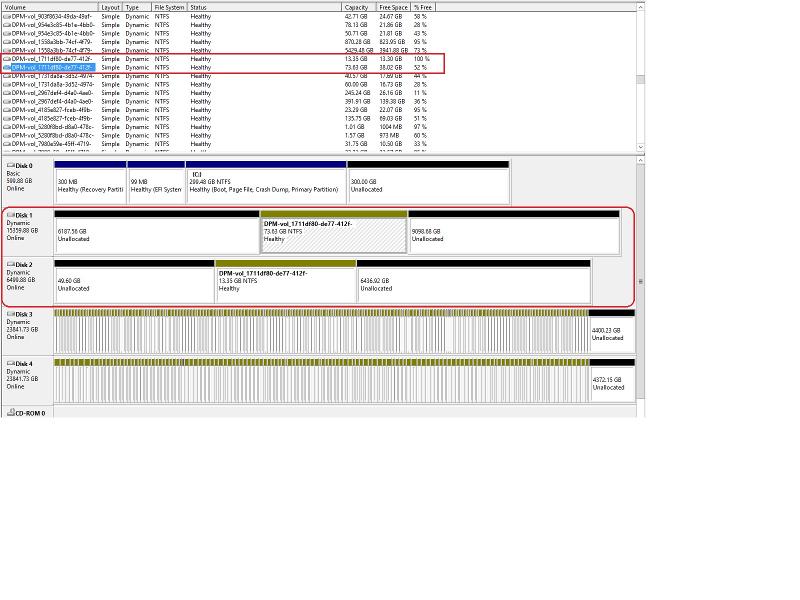 Unfortunately, I no longer can view these disks within SCDPM 2012 R2 under Disks has they have been disassociated once I performed the migration. So, I cannot determine which Protection Group these remaining disk data are associated to.
I would like to know how to complete the process, which was done automagically over time as the replica data fell off the 30 day retention schedule, so the disks display completely unallocated without manually doing it? Or what is the best practice for such a process? I would like to decommission these disks (iSCSI NAS stores) so I can repurpose them elsewhere, no longer with my DPM 2012 R2 system.
Could I just format the disk, take it offline, disconnect it within my iSCSI Initiator then repurpose it? Or do I need just disconnect it within my iSCSI Initiator then repurpose it? Or do I need to do something else before performing any of these steps?
Attached is a screenshot of the disks and the data still displaying.
Thanks in advance.