I'm looking for confirmation on why some Track Changes Options appear greyed out in Word 2016 (64 bit). If you go to the Review Ribbon and choose the Track Changes dialog expander button (little square at the bottom right side of the Tracking group), you will see the Track Changes options available. I have three options that appear checked and greyed out: Highlight Updates, Other Authors, and Pictures by Comments. Here is a screenshot: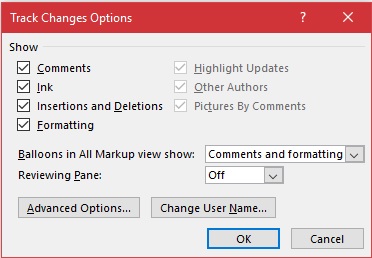 Am I correct that Highlight Updates and Other Authors options are only available when using Collaboration/Co-Authoring...so your Track Changes document is saved to a Shared location?
Am I correct that Pictures by Comments is tied to Outlook's People settings to "Show User Photographs when Available" ?
Thanks for your help folks!