I've created a stored procedure in MySQL that: 1.) Creates a temp table, 2.) Populates some of its values 3.) Then attempts to update one of the fields with a statement like the following:
"UPDATE tempTable tt SET tempTablefield = SELECT tableBField WHERE etc...."
The first part of the stored proc fills the temp table with data and then that is followed by an update statement to update one of the fields in the temp table. I've looked at the table to see what it looks like before the update and the field that is getting update is full of the default values (see stored proc below). However, after the update the affected field contains null values in the rows where there is no match and this brings me to my question: Why does my update replace the original default value with null when it updates? Why does the update not only affect the matching rows?
CREATE DEFINER=`root`@`localhost` PROCEDURE `usp_v1_ArchiveReport`()




BEGIN




DROP TABLE IF EXISTS utarchive;





CREATE TABLE utarchive (studentid VARCHAR(8), 




						studentname VARCHAR(50), 




                        weekTotal TIME DEFAULT '00:00:00', 




						reqHrs INT, 




                        sportTeamNm VARCHAR(25))




	ENGINE=INNODB;




    




    INSERT INTO utarchive (studentid, studentname, reqHrs, sportTeamNm)




		SELECT 




			uai.AthleteUid, 




            uai.AthleteFullName,




            uai.RequiredHours,            




            (SELECT utsportteam.SportTeamName FROM utsportteam WHERE utSportTeamUid = uai.Sportuid) AS SportTeamName         




        FROM 




			utathleteinfo uai	




		GROUP BY




			uai.AthleteUid;




        




        UPDATE utarchive uta SET weekTotal = 




        (SELECT




			COALESCE(SEC_TO_TIME(TIMESTAMPDIFF(MINUTE, uio.TimeIn, uio.TimeOut)), '00:00:00')  




		FROM 




			utinout uio




		WHERE




			uio.StudentID = uta.studentid AND




			uio.TimeIn >= '2018-02-05 06:00:00' AND uio.TimeOut <= '2018-02-07 23:59:59'




		GROUP BY




			uio.StudentID);




				




	SELECT * FROM utarchive;    




END



If I comment out (remove) the Update portion of the stored proc the data (a sample of it) looks like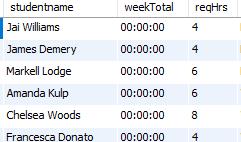 when i put the update into the stored proc the data looks like this