Hi there,
Since a couple of days two of our Exchange servers have stopped communicating with each other. We have three locations in this situation; a main office and two branch offices.
The main office has a Windows Server 2012 domain controller (DC1) and a Windows 2012 /w Exchange 2016 server (EX1).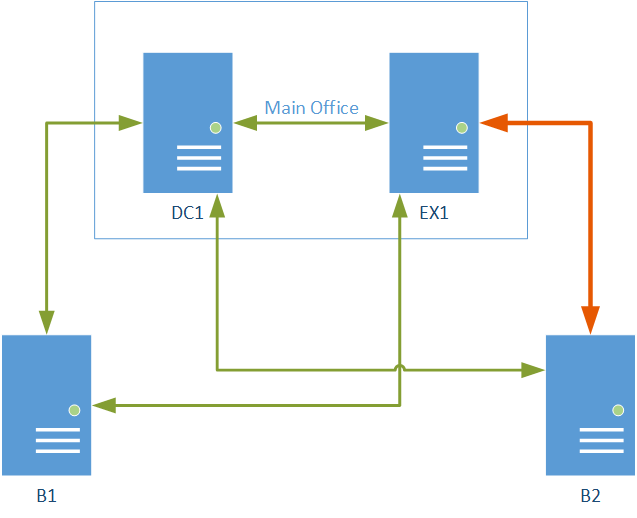 (please excuse the horrible drawing)
The first branch office has a server that is DC and Exchange 2013 (B1) and the second branch is identical to the first (B2). Note that there is no connection between B1 and B2
Communication between B1 and main office DC & EX1 is fine. B2 however has the issue that it's server won't communicate properly with EX1. . It's possible to ping the device but "net use" and "net view" are giving us RPC errors in both directions:
>net use \\ex1

System error 64 has occurred.
The specified network name is no longer available.
net view \\ex1

System error 53 has occurred.
The network path was not found.
The same tests from the B2 to DC1 are fine, however.
Earlier in the day there were also problems communicating with DC1, we fixed this by doing a "netdom /resetpwd" on B2. But this hasn't helped with EX1.
Thinking the problem might be on EX1, we also did the same "netdom /resetpwd" on that server but that didn't change anything. "Netdom verify B2 /d:<domain>" displays that everything should be working correctly
>netdom verify B2 /d:<domain>.local
The secure channel from B2 to the domain <domain>.LOCAL has been verified. The connection is with the machine \\DC1.<domain>.LOCAL.
Each branch server points to themselves as DNS server and using nslookup all relative queries seem to be fine.
There's not many events in the event viewer that seem relative to the situation or are helping us in any way so far.
What could be going wrong in here and what can we do to fix this?
Thanks very much in advance,
Kris