I am preparing to install a SAN in our IT Infrastructure. I am preparing for the installation; but, I think I miss-understood the advice, from a previous question that I posted to experts-exchange a few weeks ago:
https://www.experts-exchange.com/questions/29082500/VMware-6-0-Update-3-Vmotion-configuration-High-Availability-configuration-for-new-SAN.html
Specifically, I question what was described to me as:
- A functional Design
- A good design
- A bad design.
Allow me to describe our current VMware setup. Then describe how I plan to design the new VMware system, with the SAN and Vmotion enabled. Then please explain if my plan is a functional/good plan or if I need to change the plan.
Current VMware Setup:
3 x ESXi Hosts with local storage. We do have a VMware Cluster with version 6.0 Update 3 installed. We are licensed with VMware Essentials Plus (VMware vSphere 6 Essentials Plus Licensed for 2 physical CPUs (unlimited cores per CPU).
Our Company LAN currently consists of 2 fully routable IP-Based VLans:
VLan-1 172.XXX.XXX.XXX/24 (non-server devices)
VLan-10 10.XXX.XXX.XXX/24 (Server VLan)
The ESXI Hosts currently have 3 vSwitches:
1. Mgmt vSwitch, without any virtual Servers connected.
a. connected to VLan-1
2. Production vSwitch, non-server Virtual Devices.
a. Connected to VLan-1
3. Server vSwitch, connected to VLan-10
a,. This vSwitch is on a difference Vlan from everything else.
My plan is to stick with the 3 vSwitch structure; but, to make sure that the Mgmnt vSwitch has no Virtual devices connected to it and that the Mgmt vSwitch has at least 2 vmnics. Such as below: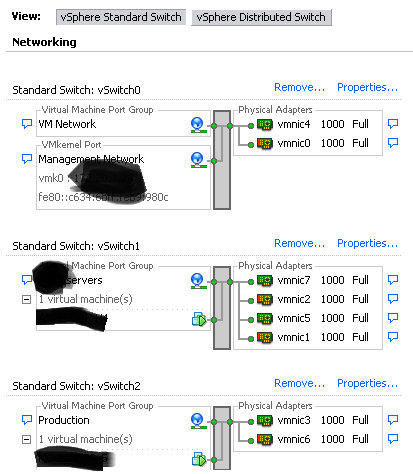 Keep in mind that this is not a huge datacenter with hundreds of virtual servers.
My questions are
:
1. Will this design with 3 vSwitches work for Vmotion and High Availability, between the 3 ESXi hsots?
2. Is there anything wrong with the above design?
3. In a perfect world, for a small company that has 22 virtual Servers (3 ESXI hosts) how can I design this Virtual Environment best?
I am not talking about vMotion, just setup and design right now.