Trying to create a dynamic drop down list in Word using VBA
MO Word 2013 Windows 7 Enterprise
Currently, when I click in the first drop down, nothing happens. The first option shows, but I am not able to change it. the second drop down is blank.
I thought I would be able to click in the first drop down, then select one of the four values.
I am using Legacy Drop Down Form Field.
using this as a tutorial:
https://answers.microsoft.com/en-us/msoffice/forum/msoffice_word-mso_winother/drop-down-menu-in-word/1d4ce90e-f561-445f-9481-c7eab9493386
Here is my Word Doc with 2 drop downs.
This is just to learn it, my actual project will be for the user to use many drop downs and the values will create a letter that can be sent to the client. So depending on what the user selects, will populate the word document. I could have used Adobe Pdf with javascript, but then I would be the only one who could update it. I thought with word, the user could update any content themselves. but I am open to other platforms.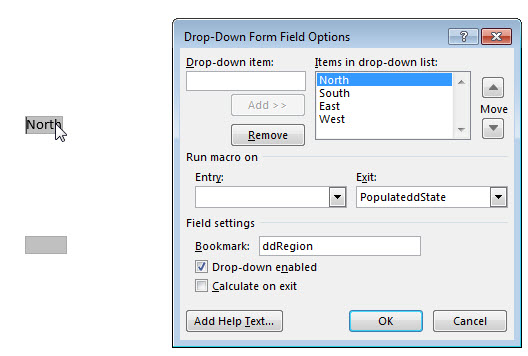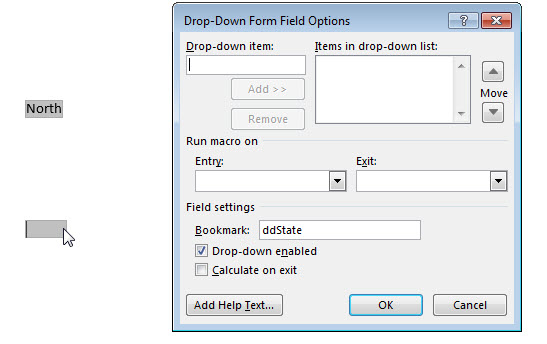 Sub PopulateddState()




    Dim MyCase As String




    MyCase = ActiveDocument.FormFields("ddRegion").Result




    Select Case MyCase





    Case "North"




        With ActiveDocument.FormFields("ddState").DropDown.ListEntries




            .Clear




            .Add "Michigan"




            .Add "Ohio"




        End With




    Case "South"




        With ActiveDocument.FormFields("ddState").DropDown.ListEntries




            .Clear




            .Add "Georgia"




            .Add "Texas"




        End With




    Case "East"




        With ActiveDocument.FormFields("ddState").DropDown.ListEntries




            .Clear




            .Add "New York"




            .Add "Maine"




        End With




    Case "West"




        With ActiveDocument.FormFields("ddState").DropDown.ListEntries




            .Clear




            .Add "California"




            .Add "Oregon"




        End With




    End Select




 End Sub



Doc3.docm