Hi Experts,
I am using a Kendo UI grid in my MVC.Net application.
I have added an onclick event to one of my grid's columns. The event takes 1 parameter (the value of the BatchID columns).
I also want to pass the value of the FileName column a second parameter. Is this possible to do using the template of a given column?
If so, how?
You can see my code, and an image of my code below:
    function loadLog() {




        var BatchID = $("#hdnBatchID").val();




        $("#ELog").empty();




        $("#ELog").kendoGrid({




            dataSource: {




                type: "ajax",




                transport: {




                    read: function (options) {




                        $.ajax({




                            type: "POST",




                            url: '@Url.Action("GetLog", "EDI")',




                            dataType: "json",




                            data: JSON.stringify({ "BatchID": BatchID}),




                            contentType: 'application/json; charset=utf-8',




                            success: function (result) {




                                var data = result.FileDtls;




                                if (data != null)




                                    options.success(result)




                            }




                        })




                    }




                },




                schema: {




                    data: function (response) {




                        return response.FileDtls;




                    }




                },




                aggregate: [




                                { field: "Filename", aggregate: "count" },




                ]




            },




            height: 550,




            sortable: true,




            resizable: true,




            footer: true,




            selectable: "row",




            editable: false,




            filterable: true,




            toolbar: [{ name: "excel", text: "Export to Excel" }],




            excel: { fileName: "FileDtls.xlsx", allPages: true, filterable: true },




            change: onChange,




            columns: [




                        {




                            field: "Filename",




                            title: "Filename",




                            footerTemplate: "<div style='text-align:left;color:black;'>Total Records:  #= kendo.toString(count, 'n0') #</div>",




                        },




                        {




                            field: "BatchID",




                            title: "Batch ID",




                            template: "&nbsp;<input type='button' value='#=kendo.toString(BatchID)#' class='RoundCorner' onclick='getFile(#=kendo.toString(BatchID)#)' style='width: 90px;border:0; background-color:white; 			                            color:darkblue;' />",




                        },




                        {




                            field: "ClaimCnt",




                            title: "Claim Cnt",




                        },




                        {




                            field: "PostedCnt",




                            title: "Posted Cnt"




                        }





            ]




        });




    }



Image of code (hopefully it helps illustrate what I am trying to accomplish)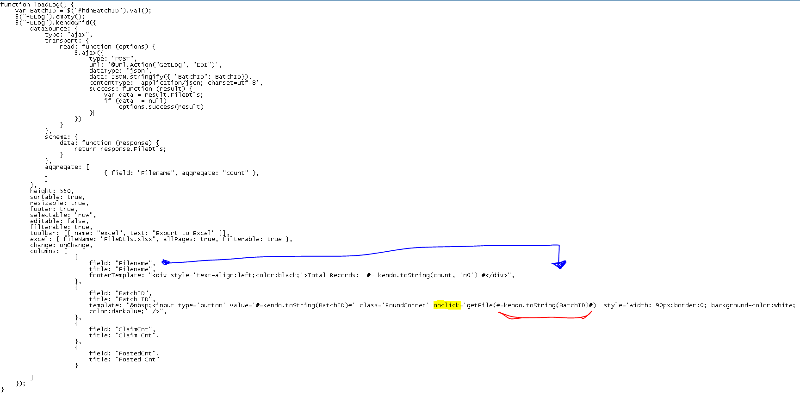 Thank you very much in advance,
mrotor