Got a problem with an old server I was hoping to do a simple P2V on and would appreciate some advice on physical mirrored disc issue.  I normally deal with proper systems with RAID controllers, SAN connected storage etc. so an OS software based mirrored drive is thankfully not something I have had to deal with since hardware has been available to do the job...
This server had been there on a site for many years (alongside a Windows 2000 SBS and Windows 2003 SBS on different LAN's) all of which I have been working to migrate their users off.  This was running a system for their CAD users that has now been replaced with a new version but the old system needs to be kept for reference purposes, I am loathe to even reboot it at the moment while errors show with the mirrored drives, I have tried running a P2V using Disk2VHD and had a non bootable result and backups are basically non existent.  I will get a file level backup of the data files and kicked off native NTBackup but considering the P2V output I am not convinced of any other backups until I can restore them of course.
Windows 2003 R2 SP2 on physical HP server.  Appears to be have 2 x Adaptec SCSI cards and 2 x 136GB SCSI discs using software mirroring.
Disk 0: 136Gb drive partitioned to C: and D: with small 31Mb partition before C:  Dynamics disc, Status: Online (Errors)
Disk 1: 136Gb drive partitioned to C: and D: Dynamics disc, Status: Online (Errors)
In Disk manager both drives show Online (Errors) and both drives show options of "Reactivate disk" in the menu.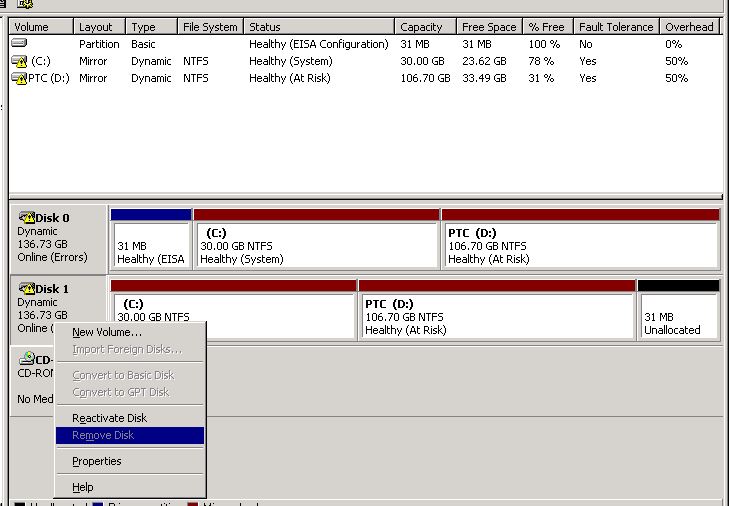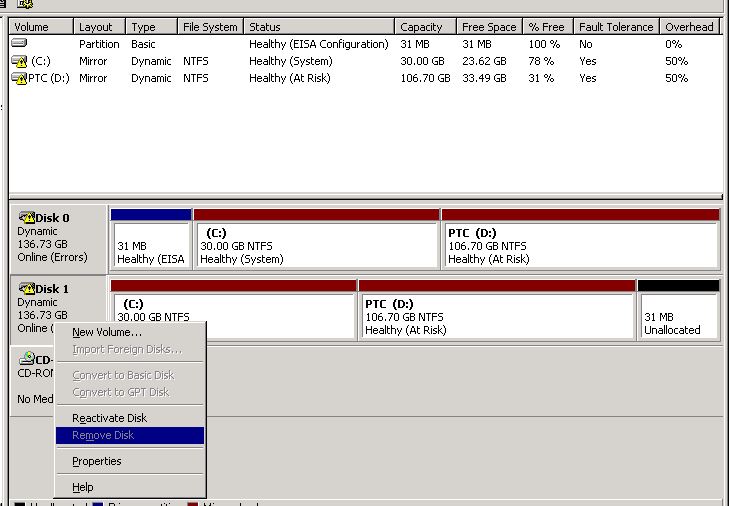 DISKPART> list volume





  Volume ###  Ltr  Label        Fs     Type        Size     Status     Info




  ----------  ---  -----------  -----  ----------  -------  ---------  -------




  Volume 0     D   PTC          NTFS   Mirror       107 GB  Healthy    At Risk




  Volume 1     C                NTFS   Mirror        30 GB  Healthy    At Risk




  Volume 2     E                       CD-ROM          0 B  Healthy





DISKPART>



From the VHD / VHDX made from the server loaded into HyperV it does not boot, looking at the drives booting from OS disc into recovery mode it shows two partitions as I would expect.  I tried to VHD and VHDX with and without shadow copy with same results.
Inside the VM in recovery manager (from a 2012 R2 ISO, diskpart LIST disk shows):
Disk 0   Foreign    136Gb    0B free    Dynamic disc
LIST partition shows:
Partition 1 Dynamics Data    29Gb
Partition 2 Dynamic Data    106Gb
LIST volume shows nothing except the DVD.
SELECT partition 1 (or 2) shows:
Virtual Disk Service error:
The pack is not online.
I am guessing that it is looking at wrong disc to virtualise.   If I can get a good backup then I will try restoring onto new VM or but would appreciate opinion on best way to deal with the software mirrored disc issue and whether you think that may be issue with doing the P2V?
thanks
Steve