We have a brand new Windows 2016 Hyper-V host hosting just a few VM's. Two of those machines are older - one is Windows 2008 R2 the other is SBS 2008. These machines were recently virtualized (P2V) using Microsoft's Virtual Machine Converter 3.1. Both went perfectly and are both in operation.
At this point, my concern is the backups. We presently use Veeam and they depend on Hyper-V to be able to do "production" snapshots of the VM's as opposed to "standard" snapshots. Both VM's are able to be backed up, but without VSS or any application awareness. To be honest, I'm more familiar with VMware-world when it comes to this, but the only information I've found says to reinstall the Hyper-V integration services but that option was removed for Windows 2016.
I'm looking for guidance on getting my Hyper-V host to take production snapshots of my VM's or any troubleshooting steps to take to resolve.
These are the steps I've done to date:
Verified host and guests are both up to date via Windows Update
Verified that all services are being offered to the guests from the host via Hyper-V manager
Verified all Hyper-V services are started and running without issue on the guests
VSS writers are all in good order on both VM's
This is in the event viewer (Applications |Hyper-V-Worker | Admin, though I cannot find how to remedy it (Event ID 4000):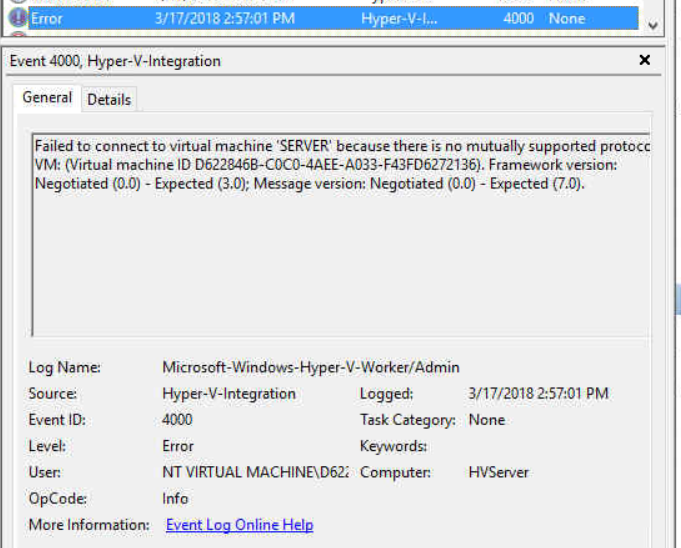 Lastly, a screenshot of the running Hyper-V services on one of VM's: