What would be the best way to display a value while suppressing it in another section where it would normally show in Crystal Reports.
This image shows a column called contract amount. Currently showing a field called Approved Amount. $44,755. The value at the top....which is not correct. The value should be $505,000 which is displayed far below in the bottom of the column next to the Code on the right with "QU-00547". The record is in the details of another field.
Since I need to post the record $505,000 currently at the bottom of the details column (where the code next to it....starts with "QU") at the top. Where the $44,755 is currently.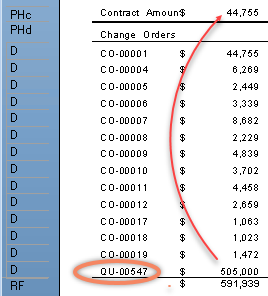 Since I have to suppress records that start with "QU" in the details section but display them at the top of the report next to the Contract Amount.....which is what is approved. Is the best solution a shared variable or something else and is there a more efficient formula over another. Since this is going to be repeated over many many contracts.? Examples welcomed.