Hi all, this is driving me nuts, hopefully someone can help
All I'm after is a row of images contained within the parent container. Each image should be about 20% (as there is 5) and apart from the last one have a right margin to give some spacing.
It all needs to be responsive so as the screen reduces so do the images.
Thanks, Neil
Attached image gives a rough example but the image that wraps needs to be contained within the parent container WITHOUT pushing it past the 100% size (eg each image, including and padding and margin should be 20%)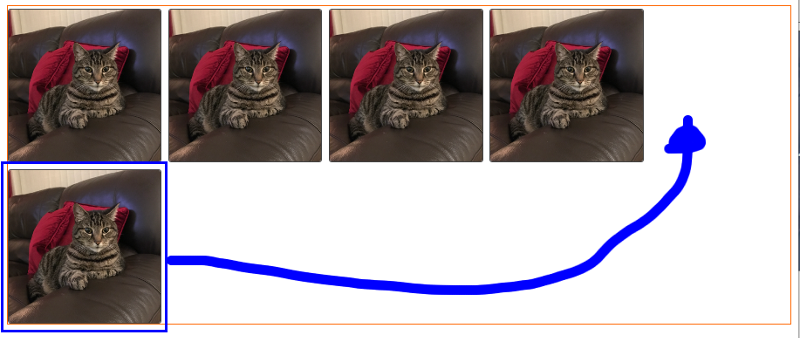 <!DOCTYPE html PUBLIC "-//W3C//DTD XHTML 1.0 Transitional//EN" "http://www.w3.org/TR/xhtml1/DTD/xhtml1-transitional.dtd">




<html xmlns="http://www.w3.org/1999/xhtml">




<head>




<meta http-equiv="Content-Type" content="text/html; charset=utf-8" />




<title>Untitled Document</title>




<style>




.profileMainGallery {




	width:100%;




	border: 1px solid #ff6600;  /* no border required but just to show held in container */




	box-sizing: border-box;




}




.profileMainGalleryThumb {




	width:20%; 




	padding:3px 3px 0 0;




	box-sizing: border-box;




	display: inline-table;




}




.profileMainGalleryThumb img {




	width:100%; 




	border: 1px solid #454545; 




	border-radius:3px; 




	box-sizing: border-box;




}




</style>




</head>





<body>




<div class="profileMainGallery"> 




    <div class="profileMainGalleryThumb"><img src="http://www.enticom.co.uk/example.png"></div>




    <div class="profileMainGalleryThumb"><img src="http://www.enticom.co.uk/example.png"></div>




    <div class="profileMainGalleryThumb"><img src="http://www.enticom.co.uk/example.png"></div>




    <div class="profileMainGalleryThumb"><img src="http://www.enticom.co.uk/example.png"></div>




    <div class="profileMainGalleryThumb"><img src="http://www.enticom.co.uk/example.png"></div>




</div>




</body>




</html>