I'm pretty advanced when it comes to Outlook, but I can't seem to get my head around how to achieve this particular task.
The Scenario
- In Outlook, I have a standard PST File containing multiple POP3 email addresses.
- I also have an IMAP connection with Gmail saved in an OST File.
When I look at my default data file (Outlook.PST) the Calendar shows both my own Calendar entries, as well as those set in my Gmail Calendar. Same goes for when I look at the calendar while looking at my Gmail IMAP account.
The Problem!
The Calendar is obviously syncronizing with IMAP's entries because the GMAIL calendar entries are there, however, the times are all wrong!
What should be a 9:00 am (as confirmed when I look at my Google calendar in Gmail), appears as 7:00 am in my Outlook Calendar. It's the same entry and on the correct date, it's just that the time is wrong. Appointments in my Gmail calendar are often set by a contact in the USA.
I've confirmed the time and zone is set correctly to my location in Gmail, but can't seem to nut out how to get the times to appear correctly in my Gmail Calendar (See Below)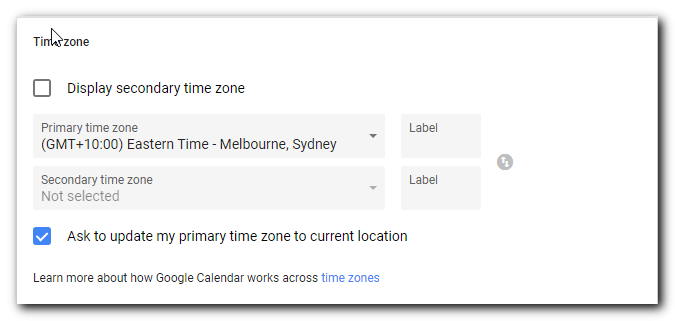 I've googled this problem to death and there are too many conflicting answers.
Some suggestions say you need an app. Some say it can be done but don't explain how its done adequately.
Some say you need a second calendar in Outlook.
Others say you should just use Google's Calendar and not bother, but I don't want to have to have a page open in Chrome (or a window) all the time just to view the Google calendar. I just want the times to be correct on a calendar in Outlook so that reminders etc will work at the right time!
Has anyone done this and can give me some decent directions as to how to achieve it? Trying to nut this one out by myself is starting to make me dizzy so I'm looking to you experts for some help! lol :)
How to achieve my desired result? What's the best and/or easiest way? If I need to buy an app, so be it. I just want it solved so that it works flawlessly.
Outlook version is the latest - 2016 via an Office 365 Subscription...
Your help would be much appreciated.
Regards, Andrew