UPDATED:
Question also originally posted here:
Link:
https://www.tek-tips.com/viewthread.cfm?qid=1785624
I have 2 sheets in a workbook
1) Consolidated
2) 3rdPartySummary
The layout of the sheets are as follows:
Consolidated:

3rdPartySummary: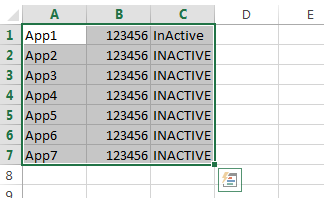 From here:
The vlookup needs to match the EmpID from the Consolidated sheet with the EmpID on the 3rdPartySummary sheet.
Copy the AppName (Column A Row 1 on the 3rdPartySummary sheet) and the Status (Column C Row 1 on the 3rdPartySummary sheet), put the AppName into the next available column in Row 1 on the Consolidated sheet and the Status into the corresponding AppName in Row 2
Expected output on Consolidated Sheet:

I have now realized something though...
In the consolidated sheet where the vlookup will be performed, there will sometimes be multiple rows with different empID values..
This could be a possible situation: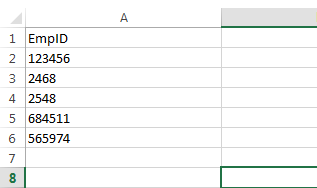 In this case, I presume it would be best to do the vlookup for one empID and produce this result:

Then before the next one is done, a blank row is inserted and the next vlookup is done to produce this:

I highlighted the cells to show that it may be possible that not all empID's will match for each app.. So it might be better to have the AppName in each row for every empID there is??
Alternatively, I don't know how we could produce this output:

Hope this makes sense to you as it did to me..
MulitpleEmpIDResult.PNG
Terminations-Template---Sample.xlsx