Have a duplicate SPN situation that I'm wondering about.
Environment: Windows domain: single forest, 3 DC's
Mix of svr 2008/2012
There are numerous event log entries on mutiple servers that say:
A Kerberos Error Message was received:
on logon session
Client Time:
Server Time: 5:45:15.0000 4/6/2018 Z
Error Code: 0x7 KDC_ERR_S_PRINCIPAL_UNKNOWN
Extended Error: 0xc0000035 KLIN(0)
Client Realm:
Client Name:
Server Realm: BUTLERBROSIS.LOCAL
Server Name: MSSQLSvc/sql1.butlerbrosis.local:1433
Target Name: MSSQLSvc/sql1.butlerbrosis.local:1433@BUTLERBROSIS.LOCAL
Error Text:
File: 9
Line: f0a
Error Data is in record data.

I'm reading
this article
, but I'm still not sure if/which SPN I should consider deleting.
Here's the output of 2 SETSPN commands:

and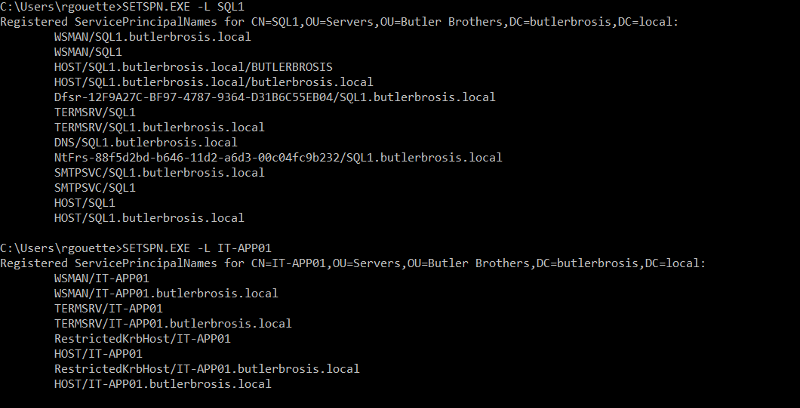 Thanks much for looking!
Rich