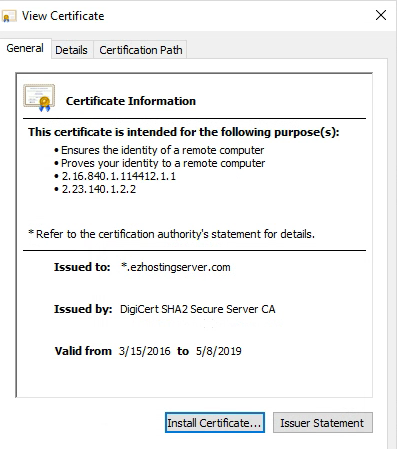 Hi,
In SBS2011/Exchange 2010 network, I have Outlook users complaining about this pop-up certificate window (originated from POP email service provider - HOSTEK.COM).
Here is email delivery process:
Incoming emails arrive at each user's pop email account on hostek.com mail server. Then MAPI Lan POP3 connector program (running connector on SBS2011) log in to each user's POP account on hostek server and retrieve email in INBOX every minute and deliver them to each user's mailbox in Exchange server. Then email shows up in user's Outlook INBOX.
Having said that, this certificate pops up periodically/randomly.
Once users add the certificate to "Trusted Root Certification Authorities/Certificates folder" on the machine, it is ok for a while. it pops up on the smart phone too where we added Exchange account.
When I asked Hostek tech support, they could not tell me how to make this go away permamently. They said it is something that Outlook that decides.
Can you explain?
Thanks.