Hello all,
System specifics:
- Virtualbox
- Ubuntu v18.x LTS
- Virtual drive (dynamic)
I am trying to expand an extended partition in a Virtualbox Ubuntu 18.x installation. I stupidly started with a 10 GB virtual drive and quickly ran out of space. :(
So this is what I did:
Increased the virtual drive size via, "VBoxManage modifyhd "virtualmachine.vdi" --resize kbytes"
Started a secondary copy of Ubuntu and mounted the primary Ubuntu vitual volume (the one I want to expand)
Deactivated the /dev/sda2 (sdb2 - in secondary boot) partition
[a few other steps]
Selected partition and resized.
[so far so good]
Then I rebooted into the primary Ubuntu and discovered that Ubuntu couldn't see the additional 10 GB of volume space. :(
But gparted shows that I should have 10.02 GiB of unused space?
I think the problem is that gparted extended the partition but didn't do the same for the file system.
How do I fix this? I am at a loss.
Booting back into the secondary Ubuntu and mounting the other virtual disk, I have tried:
- resize2fs I just see some variation of a "superblock error"
pvscan shows:
PV /dev/sdb5 VG yvr-UbuntuDevTest01-vg lvm2 [19.52 GiB / 10.02 GiB free]
Which looks perfect but when I boot back into the primary Ubuntu system, I see only 170 MB free... which gparted still shows that I should have 10.02 GiB of free space. :(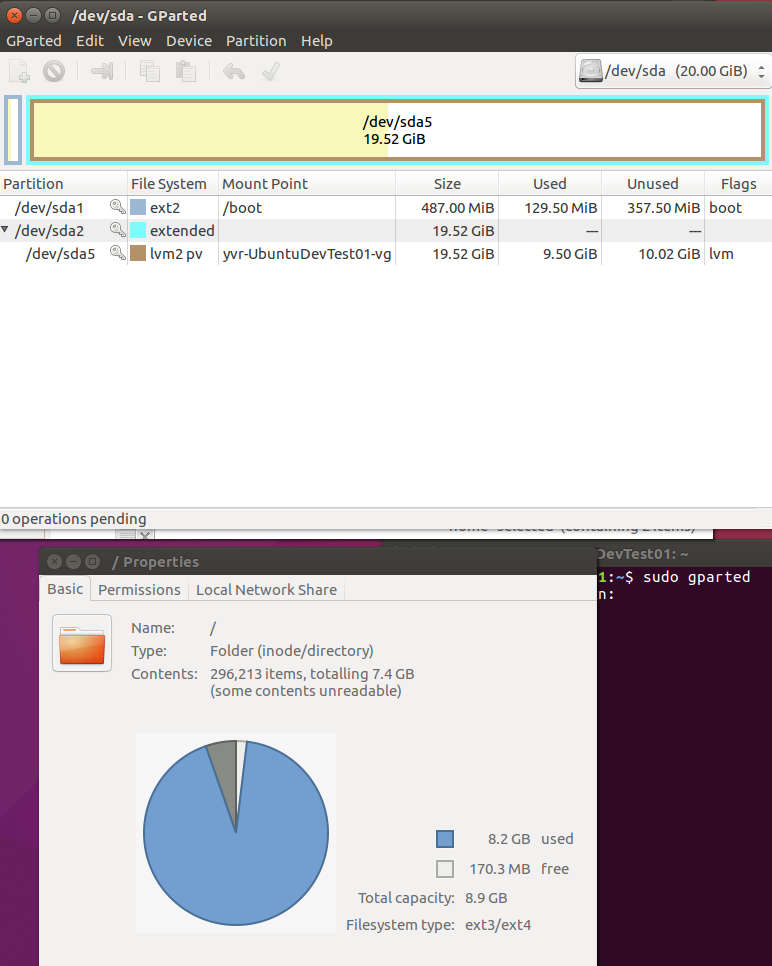 Any ideas on how I can solve this without starting over? I am primarily asking so that I might learn something new... it's not mission critical if I must start over. :)
Thank you