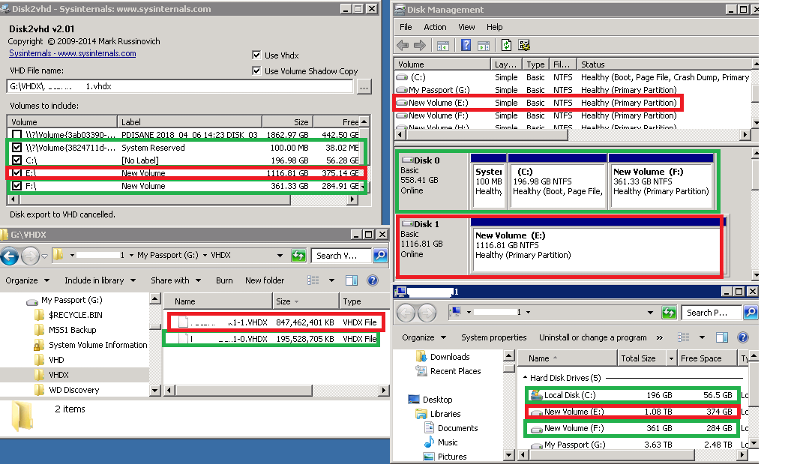 Hi,
I have a server where I have C, E and F drive. C and F are from the same 600GB (2x600GB on Raid 1). I allocated 200GB for C Drive when I installed OS. Therefore, 361GB was free, so I assigned F Drive to it. So essentially C and F are from the same 600GB HD on RAID 1. E drive is on 1.08TB (4 x 600GB HDs on Raid 10) and contains only data.
When I ran Disk2vhd program as seen in the screenshot, it created two VHDX files - PCName-0.vhdx.
When creating a new virtual machine in HyperV server, I used existing PCName-0.vhdx file first and then added PCName-1.vhdx as an additional IDE hard drive. When I booted this VM, it showed exactly the same drive letters (C, E and F) with same free space on each drive.
Now the situation:
I only have some 60GB of free space from C drive (OS) and I like to give 100GB additional space to C drive (now I have more space in HyperV server). So I made PCName-0.vhdx hard drive 100GB bigger than current size in Hyper-V settings, but when I went to Disk Management, I discovered I could only make F drive bigger (not C Drive) because 100GB free space was adjacent to F drive.
So I figure that I need to create 3 VHDX files in Disk2vhd program.
(1) system reserved and C drive PCName-0.vhdx
(2) F Drive - 361GB -PCName-1.vhdx
(3) E Drive 1116GB" - PCName-2.vhdx
My question is if it ok to run Disk2vhd program three times so that I can create separate VHDX file only for OS; therefore I can expand this VHDX in Hyper-V Settings?