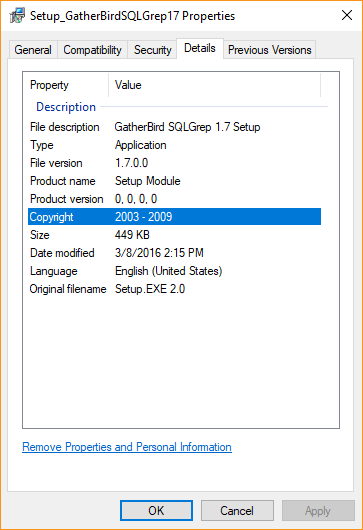 I have a file for a small program called "SQL Grep" it was designed by a company called
www.Gatherbirdsoftware.com
the product and company seem to no longer be in business. Last I heard was around 2010-2011. The file I have might be helpful with the design of the product I want to make a similar tool in another language. Python & Java. I do not think it was written in either of those languages.
My questions are:
1. Is it legal to look at someone else's code "if I can even open it...?"
2. And determine how the flow of the code works with the developers language. I do this because I am learning to develop now.
3. The intention is to build my own product to do the same thing with a newer different language?
4. The product is no longer sold and the site down with no response from the owners? I have sincerely tried.
Originally the products on the site were sold to benefit a childrens hospital. I am doing this for a charity as well. If of course I can do this in the way I hope.
Please advise.