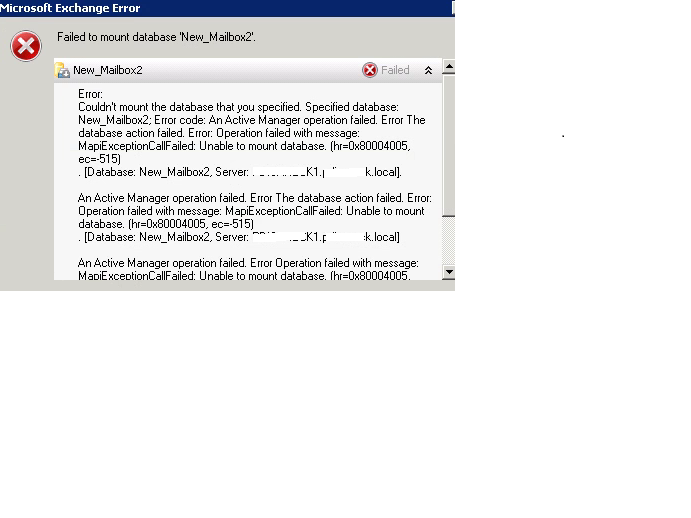 Hi,
I have Exchange Database 2010 in a test lab. It had two exchange databases. New_Mailbox2.edb and New_Mailbox3.edb and exchange was working.
I wanted to learn how to restore exchange database in case of database crash.
Exchange database in test server was in good working condition, but contained a week old data. So I brought an external USB backup drive (that had newest Exchange data backup) from production exchange server and I tried to restore new Exchange database from Windows Server Backup. I thought I followed the right steps, but it fails to mount both databases.
Here is what I did.
(1) In Test server, I dismounted both databases in Exchange Management Shell,
(2) I ran a RECOVER from Windows server Backup, chose "Applications", "Exchange", "Recover to original location" and verified three Exchange databases IDs and did not check the checkbox for "Do not perform a roll-forward recovery of the application database" thinking that this will add newest emails to existing database.
(3) Restore job ran successfully.
(4) Ran eseutil /mh and the status was "Dirty Shutdown" as expected.
(5) Ran eseutil /p and repair was successful.
(6) Ran eseutil /mh again and the status was "Clean".
(7) Ran Isinteg -s -fix -test alltests successfully.
(7) Then I tried to mount the database, but it failed with an error like in the screenshot.
Have I missed something?