Trying to figure out if I can search the entire list of tables here that would allow me to find a record in this database.
Same dilemma same database for those that know me. Spent many many hours trying to find where these records are.
For an example. I have searched the 905 tables below for 15 different records. Only found one...?
My question is when a query is run I noticed that PL SQL only shows a few records like maybe ten rows.
Then it allows you to push the double green arrow seen here to in fact run the entire set of rows for the table.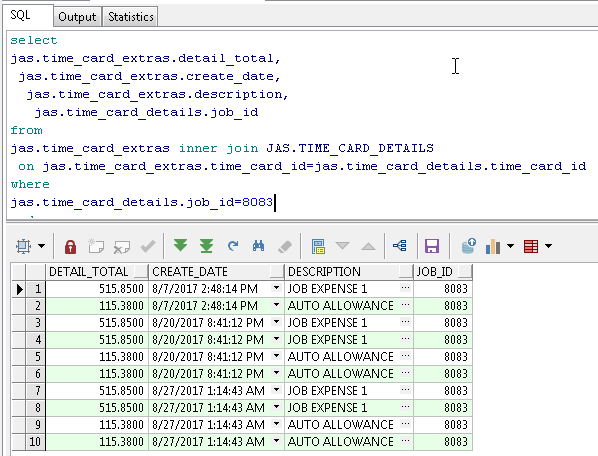 I am curious, if the first" run of ten rows" is all the current query is seeing in actual records...could this explain why I am not seeing many results? See lower code set.
Could that be because the query is only showing the first 10 rows of each table and not seeing the record. If so how do I get the records to look at "Search" the full range of rows in my query. Is that the Bind Variables.
If the code below can be modified to do so then I am open to suggestions. If it is not, I either have to ask another question which I can open or maybe I can include it here. Hard to break these up when you are trying to learn realizing I know so little. My attempt to get the code to work was the removal of a specific name of a table.
"/*and table_name like 'JOB%'*/ and my thought was that the remaining line of................ "from All_tab_cols where owner ='JAS' ....... would help me do that? My theory did not work. Still looking myself it is just taking forever when you do not know the terms or understand the structure and function yet. Never giving up or quitting though.
Select * From JAS.ACCOUNTS  ;




Select * From JAS.ADDRESSES ;




/* and 901 other tables in between the line above and line below*/




Select * From JAS.WIP_EXPORT_DETAILS  ;




Select * From JAS.WORK_ORDER_LABOUR_CODES ;




Select * From JAS.XLSX_TEXT ;





select table_name,column_name from (




  select table_name,




    column_name,




    EXTRACTVALUE(




      DBMS_XMLGEN.getxmltype(




        'select count(*) X from ' || table_name || ' where to_char(' || column_name || ') = ''6328'' and rownum=1'




      ),




      '/ROWSET/ROW/X'




    ) count




  from All_tab_cols




  where owner ='JAS' 




  /*and table_name like 'JOB%'*/




  order by table_name, column_name




)




where count=1




/