Need to have a "copy to clipboard" feature on my News Articles
I like the site at the company with which I am partnered...but want to be sure I am as little like their site as possible.
Here is the feature in question...
To the right of the article is an icon. When you click the icon, three choices display themselves.
I only use the "Copy Link" feature

Which opens this box...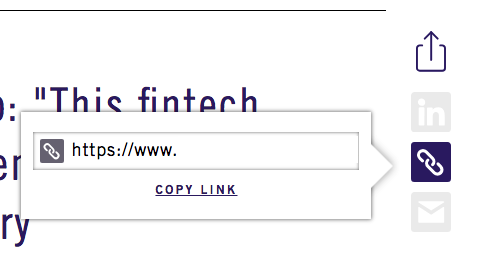 I want to be sure this feature exists on my website, partly so I can use it to send to articles to clients and so can my sales agents. Obviously, there will be a page label in the URL so that URL opens not only the right page, but to the part of the page where the article is visible.
What similar thing can you show me from some other site? I do not want to copy my partner's site. So, I am taking out the LinkedIn and Email features. I just want that URL in the clipboard.
I know this has been part of the web standard since forever. But I just need to see one example of it some where.
Thanks.