Folder Redirection is not applying completely.
we've had folder redirection working perfectly under window 7, the share published using dfs, offline files are disabled.
the share has full permisions for authenticated users.
the ntfs security is set per the microsoft doc:
Folder Redirection best practise
the gpo has read rights for the authenticated users under the delegation tab .
security filtering is not being used, authenticated users resides in the security filtering as per defaults.
the gpo has loopback processing enabled and set to replace.
under the event viewer of the desktops the following can be seen
"Folder redirection is being controlled by group policy" - good
Searches, Links, Contacts, Start Menu all redirect successfully according to the event log.

however, the following do not: Desktop, RoamingAppData, Documents, Pictures, Music, Videos, Favorites, Downloads
for these the following event is seen, it's as if it does not have a path to redirect to.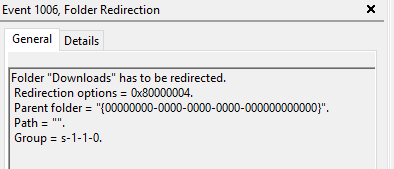 i'm at my wits end as we've recreated the GPO in an effort to fix the problem, recreated the server share, as well as reimage one desktop.
we're using the basic  setting of folder redirection,
the current desktops are a mix of 1703 and 1803, i should mention this has not worked since deploying windows 10 in jan of 2017. we reimaged in order to move to windows 10, ie a clean install.
ADMX templates are updated to version 1703 as well.
we run server 2016 as our DC.