I have a Windows 10 PC (Version 10.0.17134 Build 17134) where a VMware is installed (Version 12.5.9 build-7535481) with Windows 10 (Enterprise N 2015 LTSB). We have a problem with the IP address of this "VMware PC". The "
hosts
" file in
C:\Windows\System32\drivers\etc
, there is the entry for the VMware PC as WIN10PC (see attachements). There is a second "hosts" file in
C:\WinSxS\amd64_microsoft-windows…
without any entries, but trying to add the WIN10PC entry also there fails because of the message: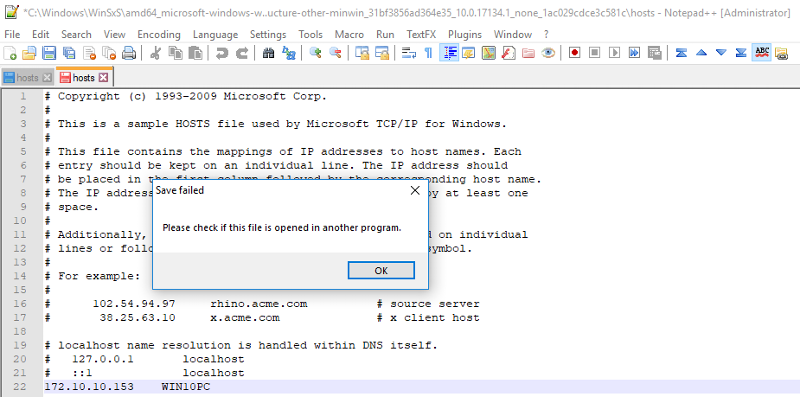 However, I have opened this hosts file only in the Notepad++ app. A ping on WIN10PC cannot find the address of
172.10.10.153
and returns the own IP address of the Windows 10 PC, which is
172.10.10.150
. The arp command does not enlist the WIN10PC address of
172.10.153
at all, and an "
arp -s
" command will not add this IP address (see attachements). Interestingly, my colleagues can "see" the VMware machine from their PCs!
Do you have any idea what's going wrong?
hosts.txt
20180627-VMware-Windows-10.txt
20180627-Windows-10-PC-2.txt