I have a Mac book pro which was running on old version - 10.9.7 with Windows running on boot camp. I am not familar with MAC side and always used windows only on this mac.
Recently, due to some issues on my iphone, had to take my phone and mac to apple store which ended up doing a big update on my mac i believe to version 10.13.7 and helped with my iphone restoral which was successfull.
I came home and logged in to windows and noticed that one of the partition on my windows side disappeared i.e Z drive. I originally had C drive and Z drive. I am not really concerned about the data on my Z drive as i do have it backed up but I am curious what happened to it ? I checked disk management on windows and there is no partition.
I logged into mac side and could only see two drives BootCamp drive ( c drive of windows ) and the Mcintosh HD drive. It is as if my Z drive partition completely disappeared.
Two questions at this point:
1. Any idea what could have happened to my Z drive ? How can this just disappear ? Is there something simple I am missing.
2. Inorder to get Z drive back, I started process of Partitioning my Macintosh drive ( Currently 400 GB into 150 GB for Macintosh drive and 250 for new created Z drive )
Its currently running the process and applying changes to the harddrive.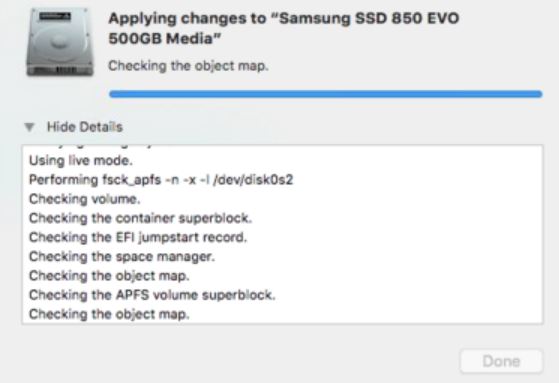 It is now stuck on this checking object map for about 3 hours now and I am concerned is it even doing anything ? Mouse cursor is still accessible.
Thanks
Nick
Capture.JPG