Update Word Document with Data entered in Excel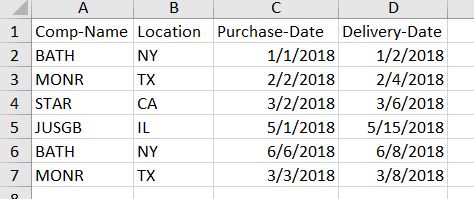 I have Excel sheet displayed on the screenshot above.
I also have word documents with the name that matches exactly the name of each Comp-Name.
BATH.docx
MONR.docx
STAR.docx
JUSGB.docx
Each word document has a table with the same column names as the Excel sheet
I would like to have the respective word document table updates automatically its data to match the new entered data in Excel .
for instance If I have a new purchase, I can manually add it to a new Excel row, and the program should add that new row automatically to the corresponding word document.
Example:
I have new purchase for a company MONR
On Excel , I will add new entry:
MONR TX 3/3/2018 3/8/2018
on a corresponding word document MONR.doc, I should have the new entry added automatically to the table in word.
Any help will be very much appreciated.
Thanks