This can't be that hard but I spent all day on it and still can't get this right.
I really , seriously, know I should create a JSFiddle but I have the code here. I promise I'll learn how to do JSFiddle :)
Julian and LeakIM helped me with this...
1. Code is here. Click on
page.html
https://drive.google.com/file/d/16gxJi-mbi3q4o19Y7HTmw4pWMUkasN2h/view
2. Choose, for example, "Once" from the dropdown. You see "CSV" is selected.
It has "checked"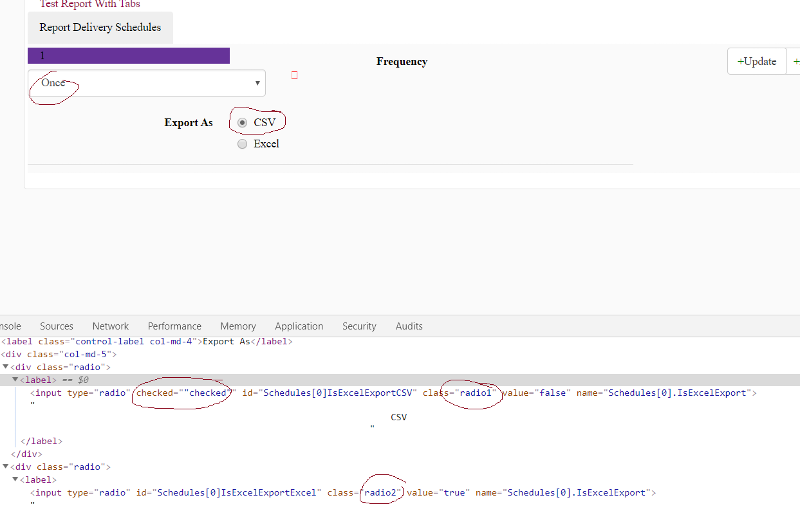 3. Now, I choose "Excel".
I click "Update
". But, it doesn't get "checked". It's always "CSV" that's selected.
This causes "CSV" selection to be always saved in the database.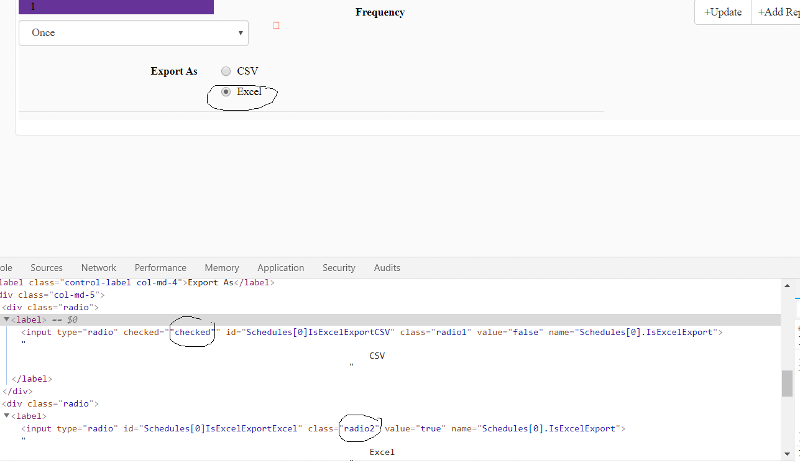 4. You can add more items by clicking "Add Report Delivery"
5. I did this to loop thru all the checkboxes. It looks like I get the correct radiobutton selected. But, how can I say
Schedules[' + i + '].IsExcelExport
is selected and set it to true. I need the property "ISExcelExport" to to be set to true or false for radio1 and radio2
I have this. You can see it in Reporting.js
$('.schedule', '#scheduleArea').each(function (i, e) {





		console.log(i)





		console.log($('#reportBuilder .radio1:checked').val());




		console.log($('#reportBuilder .radio1:checked'));





		console.log($('#reportBuilder .radio2:checked').val());




		console.log($('#reportBuilder .radio2:checked'));





		$(e).find('.radio2')[0].name = 'Schedules[' + i + '].IsExcelExport';




		var r = $(e).find('.radio2')[0].name;




		console.log(r)





		//r = checked;




		//$('input:radio[class=radio2][id=r]').prop('checked', true);





		//});





	});