Can I configure NAT with Static Route ?
This lab, is for Site to Site VPN, but I have used NAT with it. I used the example from this site:
http://www.mustbegeek.com/configure-site-to-site-ipsec-vpn-tunnel-in-cisco-ios-router/
In the configuration below, I have configured static routes for end to end reachability, and it is working fine. however I am not sure about NAT. when I run : R1#sh ip nat translations
on R1 or R2, it does not show anything translated after I ping from R3 to R4 or vice-versa.
Any idea ?
Thank you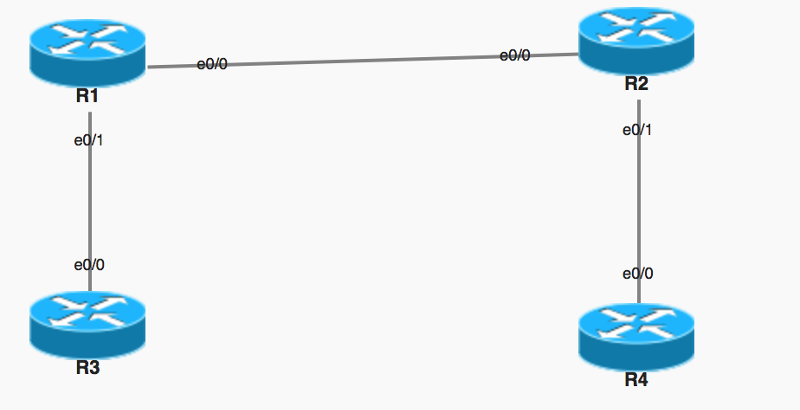 R1#show run




Building configuration...





Current configuration : 2313 bytes




!




version 15.4




service timestamps debug datetime msec




service timestamps log datetime msec




no service password-encryption




!




hostname R1




!




boot-start-marker




boot-end-marker




!




aqm-register-fnf




!




!




no aaa new-model




clock timezone CET 1 0




mmi polling-interval 60




no mmi auto-configure




no mmi pvc




mmi snmp-timeout 180




!




!         




!




!




!




!






!




!




!




!




ip cef




no ipv6 cef




!




multilink bundle-name authenticated




!




!




!




!




!




!




!




!




!         




redundancy




!




!




! 




!




!




!




!




crypto isakmp policy 5




 encr 3des




 authentication pre-share




 group 2




crypto isakmp key cisco@123 address 192.168.12.2   




!




!




crypto ipsec transform-set MY-SET esp-aes esp-md5-hmac 




 mode tunnel




!




!




!




crypto map IPSEC-SITE-TO-SITE-VPN 10 ipsec-isakmp 




 set peer 192.168.12.2




 set transform-set MY-SET 




 match address VPN-TRAFFIC




!




!




!




!




!




interface Ethernet0/0




 ip address 192.168.12.1 255.255.255.0




 crypto map IPSEC-SITE-TO-SITE-VPN




!




interface Ethernet0/1




 ip address 10.10.13.1 255.255.0.0




!




interface Ethernet0/2




 no ip address




 shutdown




!




interface Ethernet0/3




 no ip address




 shutdown




!




interface Ethernet1/0




 no ip address




 shutdown




!




interface Ethernet1/1




 no ip address




 shutdown




!




interface Ethernet1/2




 no ip address




 shutdown




!




interface Ethernet1/3




 no ip address




 shutdown




!




interface Serial2/0




 no ip address




 shutdown




 serial restart-delay 0




!




interface Serial2/1




 no ip address




 shutdown




 serial restart-delay 0




!




interface Serial2/2




 no ip address




 shutdown




 serial restart-delay 0




!




interface Serial2/3




 no ip address




 shutdown




 serial restart-delay 0




!




interface Serial3/0




 no ip address




 shutdown




 serial restart-delay 0




!




interface Serial3/1




 no ip address




 shutdown




 serial restart-delay 0




!




interface Serial3/2




 no ip address




 shutdown




 serial restart-delay 0




!




interface Serial3/3




 no ip address




 shutdown




 serial restart-delay 0




!




ip forward-protocol nd




!




!




no ip http server




no ip http secure-server




ip nat inside source list 101 interface Ethernet0/0 overload




ip route 10.10.24.0 255.255.255.0 192.168.12.2




!




ip access-list extended VPN-TRAFFIC




 permit ip 10.10.13.0 0.0.0.255 10.10.24.0 0.0.0.255




!




!




!




access-list 101 deny   ip 10.10.13.0 0.0.0.255 10.10.24.0 0.0.0.255




access-list 101 permit ip 10.10.13.0 0.0.0.255 any




!




control-plane




!




!




!




!




!




!




!




!




line con 0




 logging synchronous




line aux 0




line vty 0 4




 login




 transport input none




!




!




end





R1# 



R2#show run 




Building configuration...





Current configuration : 2313 bytes




!




version 15.4




service timestamps debug datetime msec




service timestamps log datetime msec




no service password-encryption




!




hostname R2




!




boot-start-marker




boot-end-marker




!




aqm-register-fnf




!




!




no aaa new-model




clock timezone CET 1 0




mmi polling-interval 60




no mmi auto-configure




no mmi pvc




mmi snmp-timeout 180




!




!         




!




!




!




!






!




!




!




!




ip cef




no ipv6 cef




!




multilink bundle-name authenticated




!




!




!




!




!




!




!




!




!         




redundancy




!




!




! 




!




!




!




!




crypto isakmp policy 5




 encr 3des




 authentication pre-share




 group 2




crypto isakmp key cisco@123 address 192.168.12.1   




!




!




crypto ipsec transform-set MY-SET esp-aes esp-md5-hmac 




 mode tunnel




!




!




!




crypto map IPSEC-SITE-TO-SITE-VPN 10 ipsec-isakmp 




 set peer 192.168.12.1




 set transform-set MY-SET 




 match address VPN-TRAFFIC




!




!




!




!




!




interface Ethernet0/0




 ip address 192.168.12.2 255.255.255.0




 crypto map IPSEC-SITE-TO-SITE-VPN




!




interface Ethernet0/1




 ip address 10.10.24.2 255.255.0.0




!




interface Ethernet0/2




 no ip address




 shutdown




!




interface Ethernet0/3




 no ip address




 shutdown




!




interface Ethernet1/0




 no ip address




 shutdown




!




interface Ethernet1/1




 no ip address




 shutdown




!




interface Ethernet1/2




 no ip address




 shutdown




!




interface Ethernet1/3




 no ip address




 shutdown




!




interface Serial2/0




 no ip address




 shutdown




 serial restart-delay 0




!




interface Serial2/1




 no ip address




 shutdown




 serial restart-delay 0




!




interface Serial2/2




 no ip address




 shutdown




 serial restart-delay 0




!




interface Serial2/3




 no ip address




 shutdown




 serial restart-delay 0




!




interface Serial3/0




 no ip address




 shutdown




 serial restart-delay 0




!




interface Serial3/1




 no ip address




 shutdown




 serial restart-delay 0




!




interface Serial3/2




 no ip address




 shutdown




 serial restart-delay 0




!




interface Serial3/3




 no ip address




 shutdown




 serial restart-delay 0




!




ip forward-protocol nd




!




!




no ip http server




no ip http secure-server




ip nat inside source list 101 interface Ethernet0/0 overload




ip route 10.10.13.0 255.255.255.0 192.168.12.1




!




ip access-list extended VPN-TRAFFIC




 permit ip 10.10.24.0 0.0.0.255 10.10.13.0 0.0.0.255




!




!




!




access-list 101 deny   ip 10.10.24.0 0.0.0.255 10.10.13.0 0.0.0.255




access-list 101 permit ip 10.10.24.0 0.0.0.255 any




!




control-plane




!




!




!




!




!




!




!




!




line con 0




 logging synchronous




line aux 0




line vty 0 4




 login




 transport input none




!




!




end





R2# 



R3#show run




Building configuration...





Current configuration : 1671 bytes




!




version 15.4




service timestamps debug datetime msec




service timestamps log datetime msec




no service password-encryption




!




hostname R3




!




boot-start-marker




boot-end-marker




!




aqm-register-fnf




!




!




no aaa new-model




clock timezone CET 1 0




mmi polling-interval 60




no mmi auto-configure




no mmi pvc




mmi snmp-timeout 180




!




!         




!




!




!




!






!




!




!




!




ip cef




no ipv6 cef




!




multilink bundle-name authenticated




!




!




!




!




!




!




!




!




!         




redundancy




!




!




! 




!




!




!




!




!




!




!




!




!




!




!




!




interface Ethernet0/0




 ip address 10.10.13.3 255.255.0.0




!




interface Ethernet0/1




 no ip address




 shutdown




!         




interface Ethernet0/2




 no ip address




 shutdown




!




interface Ethernet0/3




 no ip address




 shutdown




!




interface Ethernet1/0




 no ip address




 shutdown




!




interface Ethernet1/1




 no ip address




 shutdown




!




interface Ethernet1/2




 no ip address




 shutdown




!




interface Ethernet1/3




 no ip address




 shutdown 




!




interface Serial2/0




 no ip address




 shutdown




 serial restart-delay 0




!




interface Serial2/1




 no ip address




 shutdown




 serial restart-delay 0




!




interface Serial2/2




 no ip address




 shutdown




 serial restart-delay 0




!




interface Serial2/3




 no ip address




 shutdown




 serial restart-delay 0




!




interface Serial3/0




 no ip address




 shutdown




 serial restart-delay 0




!




interface Serial3/1




 no ip address




 shutdown




 serial restart-delay 0




!




interface Serial3/2




 no ip address




 shutdown




 serial restart-delay 0




!




interface Serial3/3




 no ip address




 shutdown




 serial restart-delay 0




!




ip forward-protocol nd




!




!




no ip http server




no ip http secure-server




ip route 192.168.12.0 255.255.255.0 10.10.13.1




!




!




!




!




control-plane




!




!




!




!




!




!




!




!




line con 0




 logging synchronous




line aux 0




line vty 0 4




 login




 transport input none




!




!




end       





R3#



R4#show running-config 




Building configuration...





Current configuration : 1671 bytes




!




version 15.4




service timestamps debug datetime msec




service timestamps log datetime msec




no service password-encryption




!




hostname R4




!




boot-start-marker




boot-end-marker




!




aqm-register-fnf




!




!




no aaa new-model




clock timezone CET 1 0




mmi polling-interval 60




no mmi auto-configure




no mmi pvc




mmi snmp-timeout 180




!




!         




!




!




!




!






!




!




!




!




ip cef




no ipv6 cef




!




multilink bundle-name authenticated




!




!




!




!




!




!




!




!




!         




redundancy




!




!




! 




!




!




!




!




!




!




!




!




!




!




!




!




interface Ethernet0/0




 ip address 10.10.24.4 255.255.0.0




!




interface Ethernet0/1




 no ip address




 shutdown




!         




interface Ethernet0/2




 no ip address




 shutdown




!




interface Ethernet0/3




 no ip address




 shutdown




!




interface Ethernet1/0




 no ip address




 shutdown




!




interface Ethernet1/1




 no ip address




 shutdown




!




interface Ethernet1/2




 no ip address




 shutdown




!




interface Ethernet1/3




 no ip address




 shutdown 




!




interface Serial2/0




 no ip address




 shutdown




 serial restart-delay 0




!




interface Serial2/1




 no ip address




 shutdown




 serial restart-delay 0




!




interface Serial2/2




 no ip address




 shutdown




 serial restart-delay 0




!




interface Serial2/3




 no ip address




 shutdown




 serial restart-delay 0




!




interface Serial3/0




 no ip address




 shutdown




 serial restart-delay 0




!




interface Serial3/1




 no ip address




 shutdown




 serial restart-delay 0




!




interface Serial3/2




 no ip address




 shutdown




 serial restart-delay 0




!




interface Serial3/3




 no ip address




 shutdown




 serial restart-delay 0




!




ip forward-protocol nd




!




!




no ip http server




no ip http secure-server




ip route 192.168.12.0 255.255.255.0 10.10.24.2




!




!




!




!




control-plane




!




!




!




!




!




!




!




!




line con 0




 logging synchronous




line aux 0




line vty 0 4




 login




 transport input none




!




!




end       





R4#