Greetings,
I have recently taken over an account that has a branch office with 3 older HP ProLiant servers and c. 12 PC's.  One of the servers is an older ProLiant ML110 G6 server running Windows Server Standard 2012 R2 with 12 GB RAM.   It is a Domain Controller with no principal applications on it.  It uses an HP Smart Array B110i SATA RAID controller with 2 arrays of SATA drives in RAID-1 config.  The 1st SATA array has 2 X 250 GB drives in Box 1 / Bays (Ports) 1 and 2 , and the 2nd SATA array has 2 X 1 TB drives in Box 1 / Bays (Ports) 3 and 4.
We are seeing a warning message when the server is rebooting, warning of an Imminent Failure of one of the hard drives.  I have attached a screen shot of the screen warnings.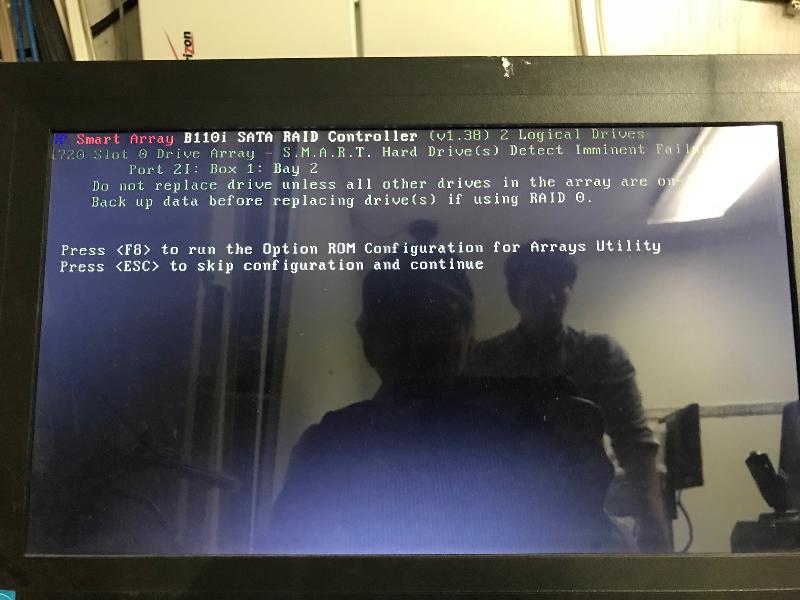 .  The failing drive is in Box 1 Bay 2, so it's 1 of the 250 GB drives.  Specifically it is a model ATA VB0250EAVER, F/W version HPG0.
My question on this is whether this is truly a hot-swappable drive + controller.  The message in the attached screen shot says to make sure to only change out the failing drive when all drives are on.    I'm hoping someone who has worked with this controller is familiar with the proper way to swap out the failing drive.  I've worked with Dell servers for c. 25 years and the process there is beyond simple.  With Dell servers, a hot-swap chassis, and a PERC RAID controller, all I have needed to do is a) offline the failing drive, b) pull the drive, and c) put in the new / replacement drive.  Once the drive is replaced, it starts to rebuild.  With this HP B110i controller, I've read in some articles that the host server should never be shut off when the drives are replaced.  I'm also wondering if there is a similar process to offline the failing drive before you pull it out.  Past that I have zero experience with these controllers, and definitely do not want to pull out the hard drive when the system is running if it is not hot-swappable.
Separately, I've had the client get in touch with HP for out-of-warranty support, but they are looking to charge c. $850 for a single out-of-warranty support call (yow!!!).  So I'm hoping someone can provide advice and a drive-swap procedure from their experience on this before the client has to fork up a serious chunk of change to HP.
Thanks in advanced for any assistance on this.
jkirman