ASP.NET Web form with VB.NET. I have legend on the form. I tried using the Wingdings3 font. It looks fine in design view. When I run it in IE11 it does not show in the Wingdings3 font. It just shows the letter you use instead.
So I thought I would try an imagebox control. It will not browse to the image folder of my project for some reason. So I dragged/dropped the image from folder to design view. Again it shows in design view, but does not show at runtime in IE11.
The method I prefer to use as it is the easiest and looks best is to use the Wingdings3 font.
How do I get it to show at runtime?
If there is no other way, then I guess I will use the image. I'm guessing it will not be transparent around the symbol - :( . It has a border around it too. :(
How do I get rid of the border and get it to show at runtime?
Here is what it looks like in the designer. The symbols on the left are the images (made using the Windows Snipping tool on the Wingdings). The symbols on the right are the Wingdings3 font: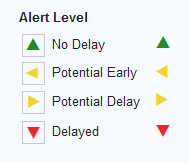 Here is what it looks like in IE11 at runtime:
Thanks,