I have this session called "order" that displays similar to the image attached. (Arrays for each meal with days).
However I want to add an IF statement that if the users email is "admin" then make all monday & fridays equal to 0. while keeping wednesday the same.
Is there a way to do this?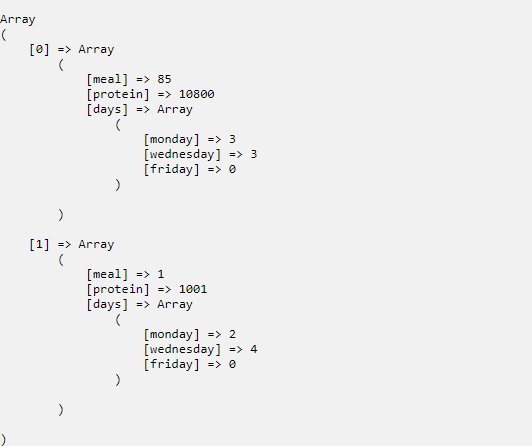 here is what i wrote so far but i got stuck on how to reach monday & friday and replace their numbers with 0
$emails = "admin1,admin2,admin3";




$finalArr = explode(',', $emails );





if(isset($_SESSION['email']))




{




	$email_check = $_SESSION['email'];




	if (in_array($email_check, $finalArr))




	{





foreach($_SESSION['order'] as $day=>$amount)




{




     foreach($amount as $indivdual => $newDay)




    {





    }




}




}




	




}