Hi Expert,
I have a issue with a job, i'm trying to fetch and insert into common_error_log table.
FYI.. I have mentioned the code chunk.
This is failing before insert into Common_Error_Log table as the cursor has no record to fetch .
   OPEN C_GET_MAX_RETRY;




   FETCH C_GET_MAX_RETRY INTO L_max_retry_count;




   CLOSE C_GET_MAX_RETRY;




   




   IF L_max_retry_count IS NULL THEN




      O_error_message :=  'INVALID_MAX_RETRY_COUNT';




      RETURN FALSE; 




   END IF;



But after checked the value from table it's there, could you please throw an light if entry is there than why going this failure.
Please find the following attachment select stmt for cursor.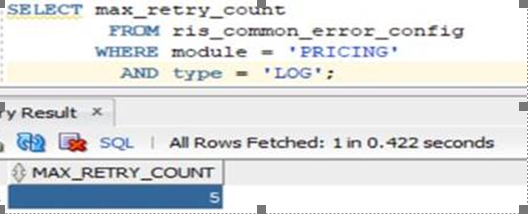 Please let me know if there need more info.
Thanks,
Mihir