Hi,  
We are comparing sales by hour for our store, and I am currently using 2 separate queries.  
I'd like to combine these results into one result set, by making the 2 queries derived tables, and joining them.   So the second result set in the attached screenshot would be additional columns added to the first result set.   I was having a hard time getting this to work correctly.  
Thanks in advance for a solution on this.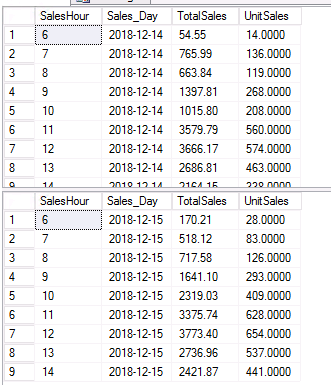 USE STORESQL






SELECT 




		




		--I.F22,




		--R.F1041 AS ITEM_DESCR,




		--R.F01 AS ITEM_NO,




		 DATEPART(HOUR, R.F253) as SalesHour,




		 CONVERT(DATE,R.F253) AS Sales_Day,




         SUM(R.F65) AS TotalSales,




		 SUM(R.F64) AS UnitSales




FROM 





	SAL_REG_SAV R




	JOIN SAL_HDR_SAV H ON 




		R.F1505 = H.F1505




		AND R.F1056 = H.F1056




		AND R.F1057 = H.F1057




		AND R.F1032 = H.F1032




	JOIN POS_TAB P ON R.F01 = P.F01




	JOIN OBJ_TAB I ON R.F01 = I.F01






WHERE




R.F1505 = '12-14-2018'




AND R.F1056 = '047'





GROUP BY  DATEPART(HOUR, R.F253), CONVERT(DATE,R.F253)




ORDER BY CONVERT(DATE,R.F253), DATEPART(HOUR, R.F253)






SELECT 




		




		--I.F22,




		--R.F1041 AS ITEM_DESCR,




		--R.F01 AS ITEM_NO,




		 DATEPART(HOUR, R.F253) as SalesHour,




		 CONVERT(DATE,R.F253) AS Sales_Day,




         SUM(R.F65) AS TotalSales,




		 SUM(R.F64) AS UnitSales




FROM 





	SAL_REG_SAV R




	JOIN SAL_HDR_SAV H ON 




		R.F1505 = H.F1505




		AND R.F1056 = H.F1056




		AND R.F1057 = H.F1057




		AND R.F1032 = H.F1032




	JOIN POS_TAB P ON R.F01 = P.F01




	JOIN OBJ_TAB I ON R.F01 = I.F01






WHERE




R.F1505 = '12-15-2018'




AND R.F1056 = '047'





GROUP BY  DATEPART(HOUR, R.F253), CONVERT(DATE,R.F253)




ORDER BY CONVERT(DATE,R.F253), DATEPART(HOUR, R.F253)