I have a very large Excel table. I want to move some row regions one column to the right, but get an error when I cut and paste. See attached the spreadsheet.
Excel_Too_Many_Cells_Rev_A.xlsx
This is what I am given:
I would like to move all the rows between "Loop" (Row 1), and "End of Loop" (Row 11) to the right by one column. Here is my end goal: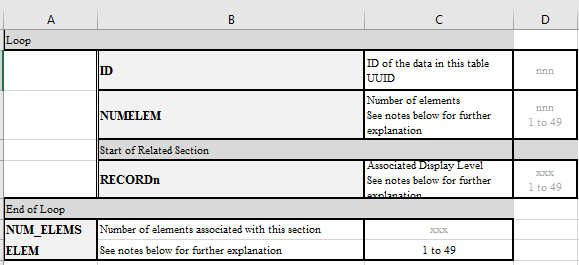 I try to cut the region A2:C7 (which includes B8), and paste it at B2, then I get the error message:
This operation will cause some merged cells to unmerge. Do you wish to continue?
If I continue, then I lose some text.
Since I have a very large number of rows, and have nested structures (e.g., nested loops, or if statements), to do this manually would take a very long time. Can you please advise how to accomplish this more efficiently.
And there are many nested conditions:
Loop on N1
...
If A33 = 1
...
Loop on N2
...
Loop on N3
...
End Loop on N3
...
End Loop on N2
end if A33 = 1
...
End repeat on N1
Thanks,
Paul