Dear Experts:
My current workbook is a multi-worksheet workbook.
All of these worksheets (
with the exception of a worksheet named 'Overview
) contain smart tables which I have named such aus 'MT_Surgery' or ' CT_Scissors' etc.
I now would like to retrieve all the names of these smart tables along with their location, i.e. which worksheet these named smart tables reside in.
This data is to be compiled in the worksheet named Overview.
So the result should look like this in the worksheet called 'Overview'
Example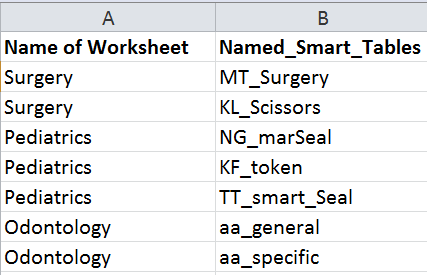 I guess this can only be achieved using a macro.
Help is very much appreciated. Thank you very much in advance.
Regards, Andreas