Using SQL Server 2014 and trying to develop a Dynamic query and Pivot.
My input data looks like this: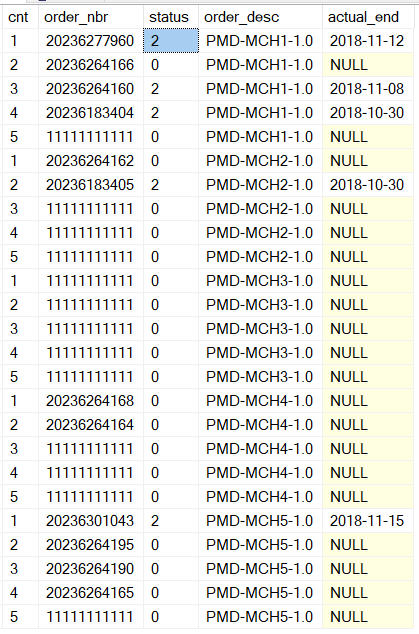 My desired output looks like this (I'd like it ORDERED BY order_desc):

I want the values under the cnt/number columns to be the "status" field.
If there is some way to add the literal "Kbn" in front of the cnt number in the heading, that would be great too.
NOTE:  In this example these order_desc happens to have 5 cnt columns.   That is not always the case - so it needs to be dynamic.  Sometimes cnt could have 2 or 6 or whatever.
             Although for any given run of the query, I believe all the order_desc in that run will have the same number of cnt columns for each order_desc.
Here is the code I have so far:
DECLARE @DynamicPivotQuery AS NVARCHAR(MAX)




DECLARE @ColumnName AS NVARCHAR(MAX)




 




--Get distinct values of the PIVOT Column 




SELECT @ColumnName= ISNULL(@ColumnName + ',','') 




       + QUOTENAME(cnt)




FROM (SELECT DISTINCT cnt FROM #tmpMfgKbn ) AS Kaban




 




--Prepare the PIVOT query using the dynamic 




SET @DynamicPivotQuery = 




  N'SELECT DISTINCT order_desc, ' + @ColumnName + '




    FROM #tmpMfgKbn




    PIVOT(MAX([status]) 




          FOR cnt IN (' + @ColumnName + ')




		  ) AS PVTTable'




		  





--Execute the Dynamic Pivot Query




EXEC sp_executesql @DynamicPivotQuery



Here is the output I am getting: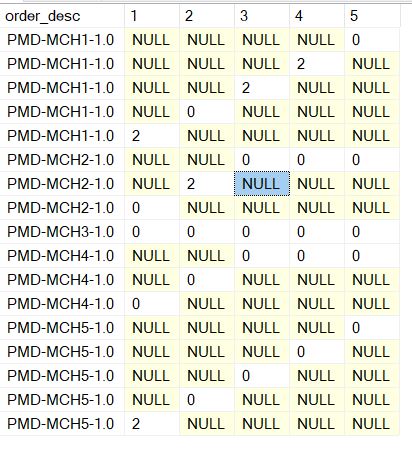 What am I doing wrong?
Thanks