I have opened Microsoft Word 2016 multiple times over past months using "Run as administrator" and clicked "Remove" on the following add-ins.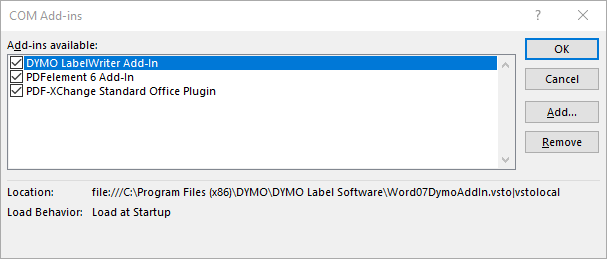 Despite manually removing the add-ins multiple times, I am constantly being frustrated by those add-ins re-installing themselves whenever Microsoft Office receives an update from Microsoft. I've noted this happen several times now and can't seem to find a way to prevent it from happening.
The same behaviour occurs in both Excel and Outlook - removed add-ins reinstall and reactivate themselves. Unsure of other Office applications as I rarely use more than the three discussed here.
Other add-ins in Outlook include WinZip Courier, Avast Antivirus Pluggin and others. There is no pattern relating to the add-ins themselves. If an add-in is available, upon recieving an update for Office 365, everything is re-installed after the update and re-activated.
Does anyone know how to stop this annoying behaviour once and for all? What am I missing?
Regards, Andrew