I have the InfoSec team who would like to have Remote Desktop access to all machines of the domain. But, i have a group of software engineers, with regular accounts who would like to have RDP access to certain servers. I am kinda stuck on here. Let me lay out for what i have:
I have this GPO called
CORP_RDP_SEC_AllServers
linked into Domain.com domain, this GPO enables the InfoSec team to RDP into any machine in the domain by adding the InfoSec team into the "Remote Desktop Users" on every computer in the domain
Ok, so it looks like certain domain users, need to have RDP access into some servers under the Servers OU. How do i allow those users to have RDP access knowing the fact I have already the GPO "CORP_RDP_SEC_AllServers" for the InfoSec team ?
CORP_RDP_SwEng_Servers this gpo contains all the users to have to have RDP access into the Servers OU.
See attachment.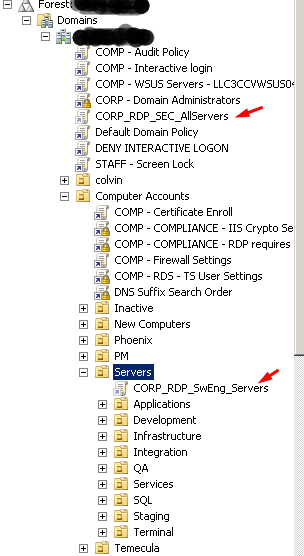 Thanks for your help