Hi Experts
Could you point how to workaround this mscomctl.ocx instalation on Win7?
A customer laptop using Win7 64 bits couldn't install mscomctl.ocx  with administrator privileges:
C:\Windows\SysWOW64\REGSRV
32 mscomctl.ocx
Since this error occurs: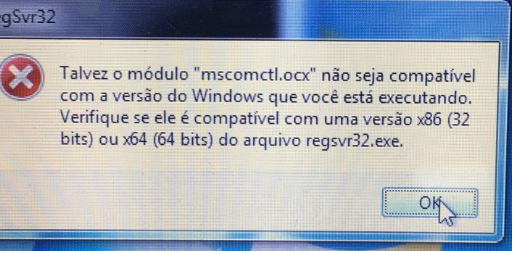 That means: maybe the module "mscomctl.ocx" doesn't be compatible with the Windows version you are using.
Check if it is compatible with one version x86(32 bits) or x64(64bits) from file regsrv32.exe
I had obtained the mscomctl.ocx from my own Win10 laptop and send it to the customer, maybe it's caused (or not) the bug.
Amazingly when running Dependency walker on my own PC, where it's correctly running,   the report is very extense... so I'm avoiding to ask the customer to do that, added the fact he will have some dificulties on this operation. I'm planning to send him a mscomctl.ocx that runs at a Win7 64bits - for another try...
Do you know any workaround on this problem, like known .DLL(s) that must exist in conjunction?
Thanks in advance!