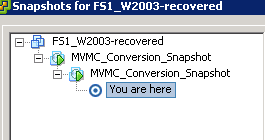 Hi,
I have ESXi V5 host where I have a virtual machine running Windows Server 2003. One time I ran Microsoft Virtual Machine Converter (MVMC) in this VM to create a VHDX file, but I had to stop it in the middle.
After that, I realized that there were snapshots created.
What is the best way to delete these snapshots safely?
Thanks.