I need to reconfigure passwords for many IIS servers, and manual setup would take way too long, so I will be using PowerShell to automate the process.
I already have all the pieces to set up specific user authentication for each of the application pools, but could use PowerShell assistance with:
1) Setting the local IUSR_ password: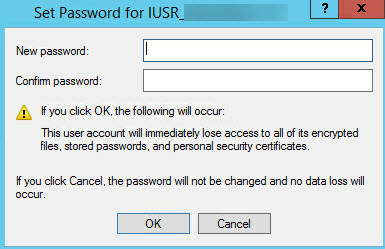 By the way, the version of PowerShell is 4.0, so I cannot use the
Set-LocalUser
cmdlet (which was first introduced in 5.1).
2) Setting the website identity (I already have the application pool identity set up):

3) Setting the field
Physical Path Credentials Logon
from ClearText to
Network
:

Thanks.